The rebuilding of Christchurch has provided new opportunities for people prepared pack up, move south and ride out the aftershocks. Our reporter Paul Harper talked to five families who chose to move the the Garden City as it emerged from its darkest hour.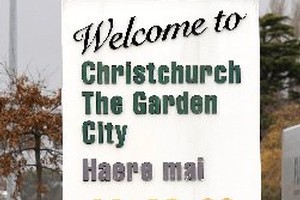 'Once you've been through a bombing, you can cope with a lot'
After surviving terrorist attacks in Indonesia and major flooding and cyclones in Queensland, Tracy Hyde is another one not phased by Canterbury's ongoing aftershocks.
Although originally from Auckland, Tracy and her partner are planning on moving to Christchurch permanently after three-and-a-half years in Queensland.
Tracy is no stranger to disasters.
"We were moving from central Queensland to Brisbane as the floods were happening around us. We got trapped in one town but got out. We arrived into Brisbane only a few days before the floods happened there.
"Our area was not directly affected, only the beach close to our home was trashed with everything that travelled down the river, trees, pontoons, furniture, farm animals, snakes, building equipment, signage that came from areas 150km away.
"I was in the 2002 Bali bombing so I think I can handle the aftershocks, I think once you have been through a bombing you can take on a lot."
Read more.
'Stuff it, let's just pull the pin and move back'
Vanessa Gooch believes a natural disaster could happen anywhere and you should not let nature scupper your plans.
The 39-year-old moved to the quake-devastated city in September last year, after living in flood-ravaged Brisbane.
"I worked on Eagle Street, right on the Brisbane River. Our building ... the car park got totally swamped. We were out of the building for about two weeks.
"Things are going to happen all the time, whether they're natural disasters or other things. I feel you can't put your life on hold for anything. You've just got to keep chugging along with your plans."
Feilding-raised, Vanessa was keen to return to New Zealand to live after residing across the ditch for the past 25 years.
"I've been wanting to come back to New Zealand for about two years and I was coming over for the [Rugby] World Cup anyway. I just decided, stuff it, let's just pull the pin and move back."
Read more.
'When your hometown is burning, you want to come down and put out the fire'
Donna and Callum Henderson and their three children have returned to Sumner after spending the past three years at Auckland's Bethells Beach.
When the earthquakes devastated her hometown, Donna knew she had to return.
"It's a strange feeling. None of my Auckland friends really can understand why we came back. But when your home town is burning, you want to come down and put out the fire.
You want to come and help. Whether that is contributing through just living here and helping out at the school, helping your neighbours - we just felt we wanted to come back and be part of the rebuild.
The family finally moved in on December 23.
"We were moving in the day those aftershocks happened. That was quite a good welcome home shake up," Donna says, referring to the magnitude 5.8 and 6 aftershocks which rocked the city that day.
"We thought if this is the worst that it gets then we are all going to be ok. But who knows?"
Read more.
Christchurch to Darwin and back again
The Jordan family home in Diamond Harbour suffered about $90,000 worth of damage in the February 22 earthquake.
"All our windows and doors shattered in February and it just didn't feel safe," Kalena Jordan says.
"We have a seven-year-old boy and his room was the worst. Looking at that [damage] everyday, we just didn't feel safe."
On March 10, the family upped sticks and moved to Darwin.
"My husband Gerry got offered a job in Darwin within two days of the quake. We thought, alright, let's go."
But Darwin was "too hot", Kalena laughs.
Read more.
'We'll live here for the rest of our lives'
For Jim Wellacott, the move to Christchurch was for love.
"I've just got engaged and my fiancé, her parents live in Oamaru, and we wanted to move and start our family in Christchurch," he says.
Jim and fiancé Ingrid Dekker moved to the Garden City in November and found jobs quickly, Jim as a mechanical engineer and Ingrid as a hearing aid salesperson.
"It just came up that we both found jobs down here and it has just worked out to come down here," Jim says.
"We're renting in Ilam, but we are looking at buying a house in Burnside or Bryndwr. We're just looking around at the moment."
Read more.