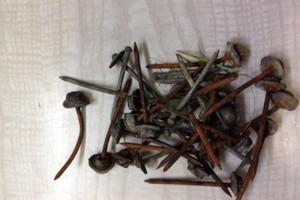 Police are following up leads after 120 roof nails were planted on an Invercargill horse racing track in what is believed to be an act of sabotage.
The president of the Southland Racing Club believes a disgruntled tenant may be responsible for the nails, which were found just 90 minutes before the Saturday races were due to start.
Staff were alerted to the danger after an anonymous caller contacted the Ascot Park Raceway claiming responsibly for the sabotage.
The call was initially thought to have been a prank after a search of the track found nothing but the caller phoned back insisting the nails were there, club president Sean Bellew said.
"My heart dropped into my pants when I found the first nail and I just thought 'are you kidding me?',''
A metal detector was borrowed from the council to help with the search for the bent, rusty roof nails - some of which were pointing upwards.
"If a horse stood on that it would impale the hoof and debilitate the horse and end its racing career. It'd probably end its life because with that much damage the animal may have to be euthanised.''
As well as the nails being put on the track, fuses had been removed from the raceway's water tanker, which is used to wet the track between races.
Twelve markers used to plot the track were also pulled out and were found, along with the fuses in a water tank.
This led Mr Bellew to believe that the person responsible must have known the club well.
"This is an intimate act of sabotage and I suggest that this person knows our protocols and procedures - how we run our events - and they must know the property very well. That would suggest to me that it is somebody who has a history with the property.''
The facility is rented to tenants who use the stables and train their horses there, and if they're late with their fees too many times they are evicted, Mr Bellew said.
"I would suspect it was a disgruntled tenant. Whoever it is, they must have a very unhealthy mind.''
The anonymous caller also used racing jargon not spoken by members of the public.
A person who had been evicted from the property was seen sitting in one of the grandstands with a hoodie on, he said.
Police were speaking to a number of people and following up leads as part of an investigation, said Constable Alun Griffiths.
He was not aware of similar incidents happening before.
"Certainly not locally. Nobody else seems to have heard of a track being sabotaged in that way.''
- APNZ