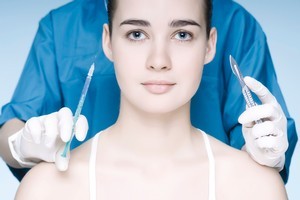 One in five New Zealand women feels "sad" about wrinkles but only a third would consider cosmetic surgery, a survey has found.
More than three-quarters thought it was best for people to age naturally and one in five thought Kiwi celebrities had "too much work done".
The online study of 1000 respondents, commissioned by skin cream manufacturer Olay Regenerist and produced by Perceptive Research, also found that a quarter of women said they would be offended if someone asked if they had undergone cosmetic surgery. Nine out of 10 said they would consider a face cream over a cosmetic procedure.
More than half the respondents thought wrinkles were the most obvious sign of ageing, followed by sore joints (24 per cent), grey hair (21 per cent), hair loss (7 per cent) and weight gain (6 per cent).
"The survey highlights how appearance can affect a significant proportion of people, which is often unsaid. A majority of women want to age naturally, and having effective face creams is an acceptable method," said Auckland appearance medicine expert Dr Garsing Wong.
"Ageing gracefully does not mean neglecting yourself."
Psychologist Sara Chatwin says New Zealand women may prefer to take a more holistic approach to health and beauty before contemplating surgery or other procedures.
"Perhaps we are a little more relaxed and happy about the way we look."
While the majority of Kiwi women would prefer to age naturally, more than one-third (38 per cent) said if money was not an issue they would consider having a cosmetic procedure, compared with just over a quarter (26 per cent) of men.
The president of the New Zealand Association of Plastic Surgeons, Dr Howard Klein, questioned the validity of Olay's research and said that over-the-counter face creams hardly ever delivered what they promised.
"If something sounds too good to be true, it probably is."
Dr Klein said that if he was able to offer his clients a cream to fix their deep wrinkles, he would happily do so but the truth was they did not achieve the same results as surgery.
"And if they do show some improvements in the skin, they're almost always temporary, for example local inflammation of the skin."
About 60 per cent of the people who saw him were treated with prescription creams. "I would much prefer for my clients not to undergo surgery if they can - but in some cases it's necessary to get the results."