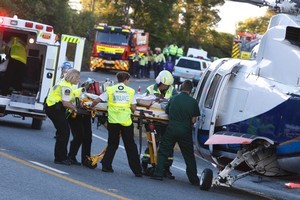 A teenage girl and a young mother travelling home from hospital after suffering a miscarriage just hours earlier were among those killed in weekend road deaths.
Three people died, two were fighting for their lives with critical injuries and four others, including several preschoolers, were hospitalised in crashes in Northland, Auckland and Rotorua.
On Friday night, two cars collided just before 6pm on State Highway 1 at Hukerenui, about halfway between Whangarei and Kawakawa.
Joanne Whare and her partner, Caleb Erueti, were driving home from Whangarei Hospital with their children aged 3 and 2 when their vehicle and one driven by Murray Hemara collided.
Ms Whare, 26, had lost her unborn child earlier that evening because of complications.
The couple were returning to their Kaikohe home when they crashed, killing Ms Whare and injuring Mr Erueti and their children.
Mr Hemara, 53, who was driving to a family funeral, was also killed. His partner, Ti Miringa George, was rushed to hospital with broken ribs, hands, legs and a lung injury.
Police said the crash was "high speed, head-on", chaotic and traumatic. They were still investigating the cause.
Just hours later, Northcote student Samantha Marie Sinclair, 17, died when the car she was a passenger in hit a concrete power pole on the Coatesville-Riverhead Highway, north of Auckland.
Police said the Nissan Skyline lost control on a moderate left bend on a slight rise about 10pm.
Senior Constable Colin Nuttall said Miss Sinclair was not wearing a seatbelt.
The 18-year-old driver of the car, who had not been drinking, was taken to North Shore Hospital with moderate injuries.
Mr Nuttall said it was too early to say if speed was a factor.
A friend posted a picture of Miss Sinclair on Twitter, saying she was "so shocked" to hear of her death.
"It just hit me how life can be taken away from someone just like that," she wrote.
"Seventeen is a young age to pass away, [she] had her whole life ahead of her."
Emergency services were also kept busy in Rotorua on Saturday at 9.30pm when a head-on crash on State Highway 30 at Kapenga left two people with life-threatening injuries.
Firefighters cut a back-seat passenger from the wreckage. Two others suffered minor injuries.