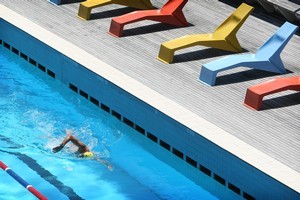 Auckland Mayor Len Brown wants ratepayers to believe free entry to the city's 24 swimming pools will cost $5.5 million when it cost $6.7 million to provide free entry to six swimming pools when he was mayor of Manukau City.
Mr Brown is relying on a study by the international consultancy KPMG, which arrived at the $5.5 million figure on the assumption that there would be no change in patronage and operating costs and increased revenue from things such as spas, saunas, icecreams and chips.
Despite the assumptions, Mr Brown has included the $5.5 million figure in the draft long-term budget, which includes four options for funding swimming pools.
The options are free entry across Auckland at an extra cost of $5.5 million, free entry for children 16 and under at a saving of $450,000, full user charges at a saving of $2.5 million and the status quo of free entry in Manukau and user pays in other areas.
Mr Brown said he had no reason to doubt the accuracy of the KPMG study.
"I support making pools free if the cost isn't too high, but I want to hear people's thoughts on the fairest option for the whole region given there are differences in pools provision depending on where you live.
"Free pools are a massive success in South Auckland where they help kids learn to swim and keep them healthy and active," Mr Brown said.
But councillor Cameron Brewer said no one would believe that universal free entry to the region's 24 pools would cost $5.5 million when it cost $6.7 million to provide six free pools in Manukau.
Mr Brewer said it was disingenuous to put the $5.5 million figure in the draft budget for public consultation.
The KPMG report was rushed, incomplete and undercooked the costs, he said.
"I'm concerned that many will see the $5.5 million figure, which equates to less than $5 per Aucklander, and demand universal free access. However, the Manukau experience shows it's going to be miles more expensive and the public should have been given an honest and realistic cost to consider," Mr Brewer said.
Making all 24 swimming pools free would increase demand and costs, such as the need for bigger changing facilities, carparks, maintenance and more staff, he said.
KPMG said it had only enough time to base its figures on six swimming pools.
GATES OPEN
Aucklanders can have free swimming pools for $5.5m so long as:
* No more people use them
* No rise in operating costs
* More revenue from spas, saunas, steam programmes
* Higher retail sales.