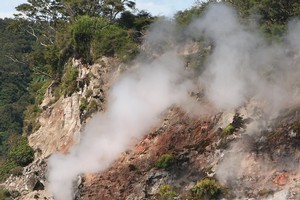 The scientists who discovered remnants of the Pink and White terraces last year are heading back to Lake Rotomahana to find out more.
Scientists plan to build on information they gathered last year, in a 10-day project starting in early March.
Last year scientists made a major breakthrough when they recorded images of the Pink and White terraces on the lake floor.
Until last year it was thought the Terraces were destroyed in the 1886 Mount Tarawera eruption.
Next month's project will remap the lake bed at a higher resolution than the map compiled last year, and will use seismic equipment to get a clearer picture of the geological structures under the lake floor.
"Lake Rotomahana is no pushover and it's been slow to yield it secrets. After being shrouded in mystery for over 100 years, modern technology is slowly peeling back the layers of what is a unique natural environment," project leader Cornel de Ronde said.
Dr de Ronde was confident the seismic survey would provide more evidence that parts of the Pink Terraces survived the Tarawera eruption, but he was not as confident about the White Terraces because the area they were located in appeared to be more severely affected by the 1886 eruption.
During last year's project the scientists found dozens of vents on the lake floor where hot water and gas entered the lake, confirming there were active geothermal systems under the lake.
Very few examples of "drowned" geothermal systems exist in the world, Dr de Ronde said.
Scientists were now interested in finding out how the geothermal systems survived during the Tarawera eruption and how they have adapted at the bottom of the lake.
- APNZ