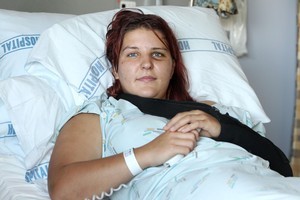 The teenager who miraculously survived a 30m fall on to concrete can't wait to get back into abseiling.
For the first time, 18-year-old Louisa Kuypers, a window washer, has spoken about what happened last Friday afternoon, after she launched herself off the roof of an office building in Auckland's Newmarket.
"The rope was meant to stretch then tighten up, but I could feel it had gone further.
"I don't remember the fall exactly, but apparently people in the office heard me scream."
Unconscious, Kuypers was rushed to Auckland City Hospital's intensive care unit. She had five dislocated ribs, a hairline fracture in her eye socket and broken bones in her neck, ankle, shoulder and collarbone.
"There's a pretty small chance of surviving a fall from that height," Kuypers said from her hospital bed yesterday.
The roof did not have "eye bolts" where the abseiling ropes would usually be attached, she said.
"The guy I was working with isn't coping too well. There's no blame, but he blames himself."
It was the second miraculous escape from abseiling in three months.
Mikaela Blayney, 20, fell from the Event Cinema building in Aotea Square in December during an acrobatic performance.
But both Blayney and Kuypers said they planned to get back into abseiling.
"We're always outside, always abseiling. I want to get back to work," Kuypers said.