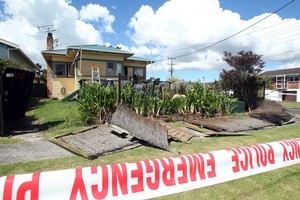 The family home of a suspended policewoman has been attacked by carloads of people who smashed beer bottles through windows and tore down fences, before driving off in high-performance vehicles.
The midnight onslaught came days after Karis Rewa Charnley, 39, appeared in the North Shore District Court in relation to an $11,000 Mitsubishi Evo which was stolen by two people impersonating police officers.
Charnley faces one charge relating to the theft of a vehicle and another of using a police uniform in circumstances likely to lead a person to believe she was a police employee.
The solo mother was not directly involved in stealing the car but allegedly supplied her police uniform to those who were, the New Zealand Herald reported.
Charnley arrived at her father's Devonport home yesterday afternoon to find her mother on her hands and knees picking up pieces of shattered glass and two tradesmen boarding up almost every window in the house.
A fence had been pulled to the ground, pot plants broken and small trees trampled.
Shocked neighbours said they woke in the middle of the night to grunty car noises.
"I heard the bottles smashing and they did burnouts, then they took off down the road," Sean Taylor, 23, said.
Another neighbour thought it was a group of drunk teenagers until he heard abuse and shouting. "There was definitely two cars."
Taylor said he heard the two cars go down nearby Bayswater Ave.
He said Charnley and her children had only recently moved back with her father, who was unwell. Charnley's mother said the family were coping with the allegations and the abuse.
"Everyone is innocent until proven guilty," she said. "We are coping - just."
Jerome Kino, the owner of the stolen Mitsubishi, said he was not involved in the attack, though he had received a threatening phone call about 3pm yesterday.
"I got threatened for my house getting smashed up," Kino said.
"They said 'We at your house now, if you don't come down now we will eff it up.' It is probably seen as suspicious but I was not there. I was with my two mates and they will back that up ... I'm willing to help find out who it was."
North Shore Area Commander Les Paterson said the police were investigating.