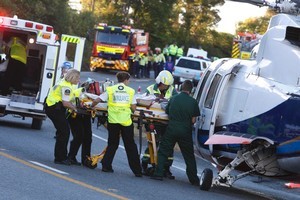 A high-speed, head-on collision has left two people dead and four - including two small children - injured in hospital.
The tragedy has devastated Bay of Islands communities: the families in both cars were already grieving the deaths of some of their nearest and dearest when the crash occurred.
Murray Hemara, 53, and his partner Ti Miringa George, 52, had left their hometown of Rawhiti that afternoon, driving their Toyota Corolla south to a family funeral.
Caleb Erueti, 26, and Joanne Whare, 24, were returning home from Whangarei Hospital with their children, aged 3 and 2. Whare had lost her unborn child earlier on Friday; that evening, the family were returning home to Kaikohe in their black Holden, when the crash claimed Whare's life as well.
The collision happened on State Highway 1 at Hukerenui, halfway between Whangarei and Kawakawa.
Fire services, St John and police from the two towns attended. Hemara was declared dead at the scene. His partner George, Joanne Whare and her three-year-old were airlifted by the Northland Emergency Services Trust rescue helicopter to Whangarei hospital.
St John district operations manager Tony Devanney said emergency services worked for up to an hour to free Joanne Whare from the vehicle before she could be flown to hospital - the same hospital she had left a few hours earlier. She died there yesterday morning.
Devanney said the remnants of the vehicles indicated it had been a "high speed, head-on collision and it was chaotic and very traumatic".
Ti Miringa George was in a stable condition yesterday, but had suffered broken ribs, hands, legs and an injury to her lungs.
Anya Hook, a neighbour of Hemara and George,said the couple were on their way to a family funeral. Wet weather might have been a factor in the crash, she said.
"Te Miringa said from hospital, the car was on their side of the road. And Murray said 'get on the right' so she shot across to the right-hand side - but the car had corrected itself and slammed into him," Hook said.
"She doesn't want Hemara to be brought back to Rawhiti marae until she is well enough to attend his tangi."
Erueti, 26, was also in a stable condition and had been transferred to a surgical ward at Whangarei hospital yesterday.
His mother, Lorraine, said the couple had been at Whangarei hospital because Joanne Whare had had complications with her pregnancy and had lost her child.