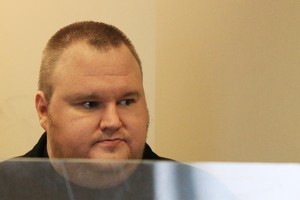 New criminal charges have been laid against internet mogul Kim Dotcom by the United States as he awaits a decision on a fresh bid for freedom.
The US Department of Justice yesterday released an updated indictment detailing its case against Dotcom and his Megaupload group of websites.
The document stacked on more charges and carried details that appeared to have been gleaned from the computer servers seized during the FBI-initiated police raids last month.
Dotcom and six colleagues were charged with criminal copyright infringement - charges officials want them extradited to the US to face.
The new indictment included details of a Megaupload member of six years who was described as a "repeat alleged infringer" dubbed VV.
The indictment claimed the user had been the target of 85 takedown notices from one copyright holder over four years while uploading 16,950 files to Megavideo.com.
The movie files, which included Ocean's Thirteen and Ratatouille, were watched 34 million times and earned VV a total of $3400 reward payments in two years. The US claims the reward payments were used to encourage illegal uploading, which the company tried to disguise amid masses of downloaded user content.
Dotcom's US-based lawyer, Ira Rothken, said yesterday that selective use of "petabytes of data" from seized servers had gone into the updated indictment for maximum "optical impact".
"Megaupload believes that the superseding indictment is wrong on the facts and wrong on the law."
At a new bail hearing last Thursday, Dotcom's lawyer, Paul Davison QC, told the North Shore District Court the case was "unprecedented".
There was legal action underway in the Auckland High Court which would show Dotcom should have had notice of the US-inspired asset seizures, he said.
The hearing also revealed the difficulty faced by the US in seizing Dotcom's belongings in Hong Kong. Taxpayer-funded prosecutor Anne Toohey, working for the US Government, said a Rolls-Royce Silver Shadow coupe was among the assets which had yet to be seized.
The news appeared to surprise Dotcom, who pledged to make the car available.
He said he would not desert his pregnant wife, Mona, who was due to give birth to twins, and their three children, by skipping bail. "I have absolutely no reason to run away."