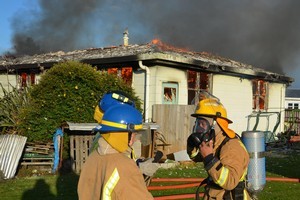 A 5-year-old boy was just metres away from a fireball that engulfed and destroyed a Tokoroa home yesterday.
The fire broke out in the Currie St home at 7.30am and Fire Safety officers are yet to determine the cause, but said it did not appear to be deliberately lit.
Rebecca Alloway was asleep when the blaze started.
"I woke up to this big bang and just thought it was my kids outside," she told the Herald.
"I went into the lounge and it was blazing. I yelled to my flatmate 'it's on fire', then I grabbed my kids and started running."
Ms Alloway's son Reilly was in the lounge, near the flames that were ravaging the room.
"I don't know how it happened, the only thing I can think of is that it was electrical. The fire wasn't going and there was no gas on.
"We've got asbestos in the roof too, so as soon as the flames hit that it was off ..."
Ms Alloway yelled at Reilly to run, and went to grab her other children, Michael, 4, and Karemelia, 3, who were in their bedrooms.
"I just scooped them up and ran. My little girl was so scared, she thought she was in trouble but I had to get them out straight away. I wasn't thinking, I just ran with them.
"Then I had to run back in and grab my clothes. I was only in my underwear so I ran to the back of the house where there was no fire and got my clothes and my cellphone and called 111."
Ms Alloway did not have contents insurance and must now find a way to replace the belongings she lost. She had just bought new beds for her family and was devastated to lose them.
"We've lost everything ... that's the first thing I thought when we were all outside. But the most important thing is that we're all okay. We're lucky, absolutely."
Four fire crews rushed to the blaze, but could not save the house. It was well away when they arrived.
"It was the scariest thing ever. It was so nuts.
"I'm shaken, I never thought this would happen to me."