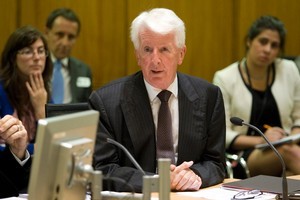 Radio New Zealand boss Richard Griffin has told a parliamentary committee the broadcaster does not need extra funding - despite having made cuts to meet budget constraints.
The broadcaster's government funding has been frozen for five years, and last year its tight financial position hit the headlines when it announced it was selling two grand pianos and setting up a trust to raise funds.
However, speaking to a parliamentary commerce committee today, Mr Griffin said he was not fighting for extra funding or "special favours".
Although the broadcaster's chairman reiterated the tight circumstances, his resounding message seemed to be that Radio NZ was doing fine.
Mr Griffin said he expected to get through the next financial year without cutting programmes, although some activities that had already been scaled back might be cut further.
"We travel less frequently to the regions, we're doing less face-to-face interviews, anything basically that involves getting out of the studio we're doing less often," he said.
"We've cut down dramatically on the number of outside broadcasts that we would do from regional areas, overseas travel is now extremely tight ... Radio New Zealand won't be sending a reporter to the London Olympics."
However, Mr Griffin said the broadcaster could still fulfil its charter obligation.
"What we're saying is that, like all other government departments and all other public services, we are cutting costs.
"Good housekeeping is critical, and of course, long term, it will have an effect on programmes. At the moment it is not."
Mr Griffin said increased audiences suggested what was being presented to the public was more acceptable than in previous years.
The organisation suffered further financial stress as a result of the February earthquake, which left its Christchurch branch premises uninhabitable and staff working out of temporary accommodation.
Asked whether he was seeking further government assistance to relieve the extra pressure, Mr Griffin said things were worse for a lot of other people in Christchurch.
"We're not asking for any special favours, we know what our mandate is, we know what is expected of us. If the Government had mind to do something about it that would be very welcome but we don't anticipate that happening."
- APNZ