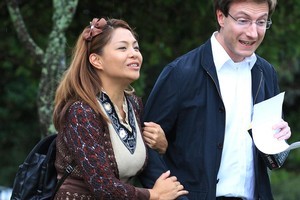 Three of Kim Dotcom's co-accused have been bailed to the same Orakei address after a judge failed to be convinced by arguments that doing so would risk reoffending or flight.
Mathias Ortmann, 40, a German citizen, was granted electronically monitored bail by Judge David McNaughton in the Manukau District Court yesterday.
Ortmann is the chief technical officer and co-founder of Megaupload, with a 25 per cent stake in the firm.
Three of the four men arrested by police in a January 20 raid on Megaupload founder Kim Dotcom's Coatesville mansion have now been granted bail to the same address.
Ortmann has joined Bram van der Kolk and Finn Batato at van der Kolk's Orakei home. Dotcom remains in custody.
Outside court, Ortmann rubbished claims by the Crown that allowing the group to be bailed together posed a risk. Bail conditions prohibit all three from using or having access to the internet. "It took seven years of intense work - of more than three people - to get this business to where it was ...
It's completely unrealistic to expect us to do any kind of reviving of the business," Ortmann said.
He said the group would prepare their case against efforts by the FBI to extradite them to the United States.
"I'm very grateful for having been granted bail ... We will face the challenge.
"We are now in a more comfortable position to prepare for the case, and that's what we will do."
Ortmann said he was sure Megaupload would eventually be proven to be legal.
He was hugged outside court by Asia Agcaoili, wife of van der Kolk, before being driven away by his lawyer, Guyon Foley.
In his reserved decision, Judge McNaughton noted: "Mr Ortmann is described as shy, very straight and a humble person who lives a modest life in rented accommodation with a long-term girlfriend."
Crown counsel Fergus Sinclair had argued for Ortmann to be bailed to a residence next to Dotcom's now-empty Coatesville mansion.
However, Mr Foley argued that removing internet-capable phones from the address would pose too great a risk to Dotcom's heavily pregnant wife, Mona, who is living at the address.