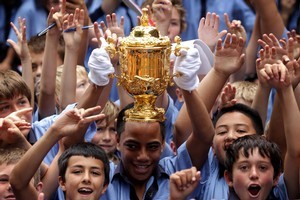 With a wide smile and white gloves, Lemeki Namoa raised the Webb Ellis Cup above his head.
At one of the stops on the trophy's tour, the 12-year-old Sacred Heart College student was yesterday given the opportunity to re-enact Richie McCaw's proud moment after winning the Rugby World Cup final.
This week, the Webb Ellis Cup is on a road trip around Auckland to give thanks for the fans' support during the tournament last September.
Yesterday morning, it was Lemeki and his Year 8 and 9 classmates' turn to see the cup up close before it went on show at The Cloud on Queens Wharf.
The NZRU hoped the tour would rekindle the excitement of the "magical six weeks" of the cup.
Figures released yesterday showed that the tournament helped take international visitor numbers to record levels last year, but many watched their pennies while they were here.
The Tourism Industry Association said 2.6 million people visited last year, up 3 per cent on the previous year.
Spending was also up 3 per cent on 2010, to $5.76 billion, but well below the peaks of $6.1 billion in 2007 and 2009.
Rugby World Cup 2011 pumped about $390 million into the economy, and international visitor numbers from Australia and Britain increased during the tournament.
Overall, the number of Australians visiting friends and family in New Zealand increased 8.6 per cent on 2010, while the number specifically here for a holiday dropped 1 per cent.
A Ministry of Economic Development survey found that 133,000 people came to New Zealand in 2011 as a result of the Rugby World Cup.

- APNZ