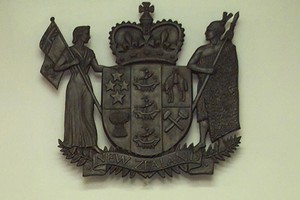 One of the men jailed for abusing Rotorua's Nia Glassie has been sentenced to a further six months' jail on charges, including drink driving and breaking into a dairy.
Michael Paul Pearson, 23, appeared in the Rotorua District Court yesterday after pleading guilty to a charge each of burglary, careless driving, unlawfully getting on to a motorcycle and driving while disqualified. He also pleaded guilty to driving a motorcycle in Thomas Cres with a blood alcohol level of 200mg of alcohol per 100ml of blood. The legal limit is 80mg.
According to the police summary of facts, Pearson was disqualified from driving for six months on July 5 last year.
About midnight on November 5, police saw Pearson riding a stolen motorcycle on Thomas Cres and followed him on to Leslie Ave. Pearson rode down a pedestrian alleyway where he lost control, hitting a tree. He fled and was found at a Thomas Cres property, then taken to Rotorua Hospital.
Pearson told police he had been drinking alcohol and was meant to take the scooter for a ride around the back lawn but ended up going up the road. Pearson said he knew the bike was stolen, but said he was intoxicated and could not recall the incident.
At the time, Pearson was on bail on a charge of burglary.
Judge Phillip Cooper said Pearson had broken into a Four Square last August by climbing up a wall of the building and removing some glass panels but left when the alarm was activated.
Pearson's lawyer, Nicky Scott, said Pearson progressed well if he had someone to confide in and sought psychological counselling for him when he was released.
She said when Pearson rode the motorcycle, which was not stolen by him, he was unable to stop and ended up going out on to the road.
Judge Cooper said Pearson had two previous convictions for drink driving and said the starting point was eight months' jail, but reduced the sentence to six months for the guilty plea.
Pearson had already served the sentence while remanded in custody.
He was banned from driving for a year and ordered to pay reparation of $21. Pearson was also ordered to undergo psychiatric and psychological assessments and receive any treatment or counselling which resulted.
In 2008, Pearson was sentenced to three years' jail for ill-treating and assaulting 3-year-old Nia Glassie, who died after months of abuse by a number of people. He was released in 2010 and his parole conditions ended in January last year.
For more articles from this region, go to Rotorua Daily Post