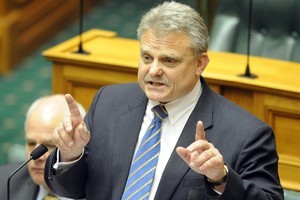 Three strikes law champion and former ACT MP David Garrett has notched up his own third offence after today admitting drink driving.
Garrett pleaded guilty when he appeared in Waitakere District Court to driving with a blood alcohol level of 132mg per 100ml of blood; the legal limit is 80mg.
Garrett was convicted and fined $550 plus costs, and disqualified from driving for six months.
It is the third time Garrett - ACT's former law and order spokesman who championed the three strikes law - has been convicted of breaking the law.
He has a previous conviction for assault in Tonga in 2002 and was discharged without conviction three years later for stealing the identity of a dead child to obtain a passport.
The revelations of the identity theft offence resulted him leaving Parliament, also led to him being censured by the Law Society's Lawyers and Conveyancer's Committee last year. The society suspended him from holding a lawyer's practising certificate for a year and ordered him to pay court costs of $8430 to the Law Society.
The hearing related to a false affidavit he had sworn to the court while he faced the charge of stealing the identity of a dead child to get a passport in 2005.
Garrett, who was a practising lawyer at the time, did not mention the Tongan conviction.
- APNZ