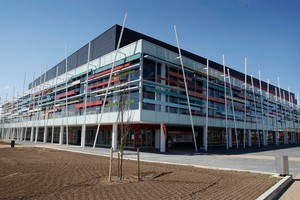 Staff at city hall will face lower salary increases next year as the chief executive tries to save money lost from the struggling Claudelands Event Centre.
Hamilton City Council chief executive Barry Harris yesterday committed himself to making further operational cuts to cover the expected $900,000 shortfall for the next four years at Claudelands after a report revealed the original budget was flawed.
Staff told councillors the more "realistic figures" would affect the council's coffers because of inflated revenue expectations and reduced operational costs being included in the original budget.
Mayor Julie Hardaker told councillors who were alarmed by the report findings that those issues would be addressed in an April workshop .
The biggest hit to the council's budget will be this year as Claudelands is expected to post a deficit of $2.64 million - worse than the $1.7 million deficit reported to the council last November.
Mr Harris said he was still working on how the shortfall would be met and intended to report back to the council next month.
However, he believed he would be able to absorb the additional expenses in the long term plan by reducing plans to increase salaries from 3 per cent to 2 per cent for the next 10 years and by putting further pressure on staff to find operational savings of another $200,000 a year.
The city council's new event and economic development general manager, Sean Murray, said Claudelands was as good as any other facility in the country but he planned to look again at its pricing model, which the review found to be too high.
Meanwhile, the council signed off its draft long-term plan and increased the debt to be shown on the books from $420 million to $440 million.
The $20 million had been historically been ring-fenced in a reserve but Ms Hardaker said this was not transparent and in time wanted all the council's so-called reserves to be removed. However, last-minute calculations meant it would be able to break even by year four instead of five, which was good news for the financially strained city council.
Based on earlier concerns about how the $40 million V8 event never triggered its special consultative policy, the council reduced the threshold to be $3.5 million over the lifetime of the project from its current $12 million a year.