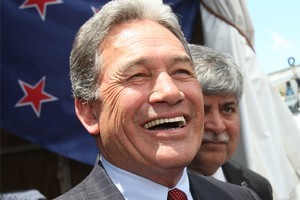 New Zealand First leader Winston Peters has demanded an apology after the Maori Party retaliated over his attacks on the Whanau Ora scheme by suggesting he was a hypocrite and that his partner had worked for one of the scheme's biggest providers.
An angry Mr Peters denied claims that his partner, Jan Trotman, worked as a consultant on Whanau Ora for the Waipareira Trust in 2010 and last year and he demanded an apology from Maori co-leader Pita Sharples.
He said his "associate" - Ms Trotman - was contacted by trust chief executive John Tamihere in February 2010 and last February, once to talk to a management team and again to advise on an employment issue.
Mr Peters said none of that work involved Whanau Ora.
Dr Sharples had said the attacks on the scheme to deliver social services to Maori were from "the rednecks of racism" and he was surprised "especially since I've been informed that [Peters] knows full well that his partner received sizeable remuneration for advising one of those Whanau Ora collectives".
Mr Peters said the claims were "palpably untrue" and that Dr Sharples was trying to "impugn my integrity and suggest I was a hypocrite".
Mr Tamihere said he would not comment about employees or consultants on grounds of privacy.
The Maori Party co-leaders made the claims after Mr Peters criticised a $6 million Whanau Integration, Innovation and Engagement Fund, claiming it effectively funded family reunions.
Yesterday, Mr Peters continued his attack, questioning Prime Minister John Key about the accountability of the scheme and whether money could be tracked after a provider received it. Mr Key said all Government spending was closely watched and accountable to the public.
Whanau Ora Minister Tariana Turia said Mr Peters' attacks were scurrilous. "We are talking about a person who in his previous time in Parliament took $158,000 worth of taxpayers' money and never ever paid it back. Mr Peters knows nothing, and he shouldn't keep guessing."
NZ First had given $158,000 to charity after the party was found to have unlawfully spent that amount of Parliamentary Services money during the 2005 campaign. Other parties had repaid Parliamentary Services.
Mrs Turia said Whanau Ora funding was closely monitored. A review was due to start soon.
Meanwhile, Whanau Ora was also the subject of more Labour accusations of political interference in NZ on Air.
Labour broadcasting spokeswoman Clare Curran released documents showing NZ on Air board member Stephen McElrea was one of four people on a subcommittee that selected four documentaries to fund - including one on Whanau Ora. Mr McElrea is Mr Key's electorate chair and an office holder in National.
Labour has previously criticised Mr McElrea for raising concerns about a NZ on Air-funded documentary on poverty screened before the election.