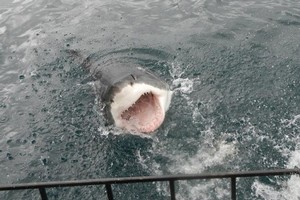 A diver has come uncomfortably close to a great white shark after the enormous predator peered into the protective cage she was in.
Brittany Haines, 19, was observing the shark near Stewart Island as it passed the cage several times.
But when some bait floated into the 2sq m cage, the shark followed it and its jaws became entangled in the steel frame.
"I got out so ******* quick. He was thrashing around trying to get out - I thought he was [going to] get me," Ms Haines told friends on Facebook. "The shark couldn't get in any more. He was lucky to get out from being stuck in that far."
She later said that she was in no danger, and that the great white came off worst in the encounter, cutting its nose as it pulled itself free of the cage.
Ms Haines is the daughter of Mike Haines, who runs shark sightseeing tours from Bluff.
Film-maker and photographer Clive Copeman, who used to work with Mr Haines, said his former colleague ran very safe expeditions. The large shark would not have been able to squeeze its head into the cage's viewing hole, he said. "Most sharks we've seen there are about 4.5 metres, sometimes five metres.
"The cage has a 30cm window that runs right around which would allow a shark of about three metres to poke his nose into, but not the lower jaw. Underneath is a space of about 3ft to 4ft where you can duck."
Last year, marine scientists confirmed that Stewart Island had a resident population of sharks, attracted to the region by its rich fish life and a fur-seal colony.
Around 80 great whites live in the island's waters, some of which make 4000km round trips to the Pacific Ocean in summer.