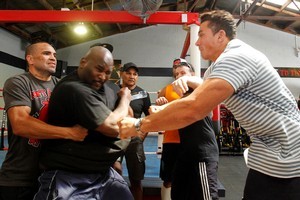 As far as trash-talking, post-weigh-in pre-fight punch-ups go, it wasn't quite Caesar's Palace but close enough.
A hulking 128.4kg Clarence Tillman, who cut a far more brooding and imposing figure than Sonny Bill Williams' original opponent Richard Tutaki, whispered menacingly as the pair squared off for photographers shortly after weighing in in Hamilton for tonight's New Zealand Professional Boxing Association heavyweight title fight at the Claudelands Events Centre.
It was hard to make out exactly what was said between the pair, although the words "f***", "you" and "up" were just audible and uttered more than once.
Their animosity was clear during a 12-minute press conference which ended just before their face-off and Tillman being grabbed by Williams' friend Anthony Mundine after some shoving and Tillman landing a glancing blow to the All Black's jaw.
Tillman, with a professional fight record of 11 wins, eight losses and two draws, said he felt a lack of respect from the less experienced Williams, in his fifth fight tonight against a man likely to offer a lot more starch than any of his previous opponents.
"Just some of the things I've heard from some people, which is just kind of asinine really, but everybody has their own opinion," Tillman said.
He smirked and scoffed at several of Williams' answers and even told reporters he'd been to the TAB yesterday morning where he had wagered $1000 on himself to win.
If that story is to be believed, he stands to win $35,000 - but only if he knocks SBW out in the first round.
A confident and ripped Williams, who tipped the scales at 107.9kg, said he had learned to punch properly under the tutelage of Tony Mundine after boxing aficionado Sir Bob Jones gave him a serve for an apparent lack of technique.
Asked if he was taking his opponent seriously, Williams said there was no doubt Tillman wanted to knock him out.
"He's been around for a while but this is definitely the biggest fight for him ... a stepping stone," said Williams, which drew an incredulous "yeah ?" from Tillman.
"That's what I'm saying, bro. You might have fought better fighters than me but I'm saying this is a big stage for you, you know?
"I'm putting it all out there. I know I've prepared as well as I could and tomorrow night is where it's going to happen."
Sitting alongside Williams were his good friend Anthony Mundine, trainer Tony Mundine and Chiefs co-captain Liam Messam.
Anthony Mundine said he had sparred with Williams in Sydney and his improvement, particularly in defence, had amazed him.
He rated Williams' chances.
"I'm pretty quick and pretty much can get at anyone at any time but he's very difficult.
"A lot of people underestimate him and what he can bring to the ring ... he's hard to hit and can punch pretty much either hand."
The TAB last night had Williams as a short $1.33 favourite while Tillman, who cannot claim the vacant title even if he wins because he is not yet a New Zealand resident, is paying $3 for the win.