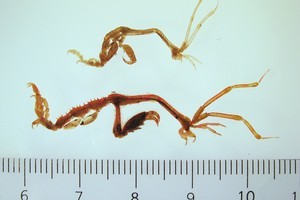 A crustacean branded a 'skeletal alien invader' could be threatening New Zealand's marine biodiversity, marine scientists say.
The National Institute of Water and Atmospheric Research (NIWA) has issued a warning about the spread of skeleton shrimps called Caprella mutica in New Zealand waters.
In a statement it said the crustaceans were migrating around the country by attaching themselves to boat hulls or drifting algae.
They had recently spread to southern waters including around Dunedin, Bluff and Lyttelton Harbour and could pose a risk to other marine life.
NIWA biosecurity scientist Dr Chris Woods said the shrimps, known as the "praying mantis of the sea", would colonise artificial structures - sometimes appearing in huge densities on anchored buoys, fish cages, wharves and vessel hulls.
"Boat owners are saying to us, 'what are these waving things all over the hulls of our boats?' when they slip their craft and discover the hull alive with movement."
"The males often have big fights with each other, it's like seeing swinging handbags at dawn."
He urged boaties to be vigilant for the "marine invaders" and keep their vessels clean.
"It will likely spread to most areas of marine human activity throughout New Zealand in the near future, so please take care this summer when transporting your boat between different areas."
Caprella mutica was first detected by NIWA in the Port of Timaru in 2002.
They grow to 50 mm in length and are known for holding their enlarged claws in a mantis-like pose.