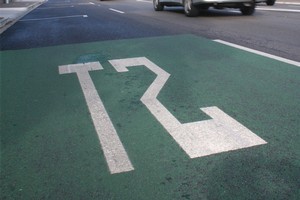 I ride a motorcycle and I'm a bit confused about the various transit lanes and rules about where a motorcycle can use them. Are the T2 entrance ramps okay for motorcycles to use?
Chris Lake, Auckland.
According to the Auckland Transport website, no, they're not. A T2 lane is for any vehicle that has two or more occupants. A motorcycle is permitted in a bus lane where the signage indicates that this is the case. It usually is not so on motorway bus lanes.
Correction: This column incorrectly states that motorcycles may not use transit lanes. Auckland Transport has now amended its website, which I quoted from, to make it clear that motorcycles, motor scooters and mopeds may use T2 and T3 transit lanes. They may not, however, use lanes marked Buses Only.
At various places down the motorways there are sections where the seal is cut into two or four squares. What do these do?
Ken Valder, Auckland.
These are places where the Transport Agency has installed induction loops, an electronic communications system that detects and measures a whole range of motorway information. This includes traffic volumes and speeds, the density of traffic, even the length of vehicles. Information is used immediately to monitor traffic flows and to regulate the phasing of ramp signal lights and motorway travel times. In the longer term, the information helps the NZTA and its Auckland Motorway Alliance measure wear and tear on the motorways, identify key routes for freight, and plan for any future motorway developments.
I have a simple query regarding T2 transit lanes and motorway on-ramps. What is the definition of an occupant? I often see vehicles go past me in the T2 on-ramp lanes with the only obvious occupant being the driver. Do they perhaps have a small child, unseen through not being in a correct child restraint, or maybe a dog? I always have my small dog in the ute with me while working. Would that legally be two occupants? Does my ute qualify to use commercial truck lanes when loaded? I do have to pay a higher registration on it for this very purpose.
Bryan Gaudin, Auckland.
A small child is a person, so a driver with a wee one in the vehicle may use a T2 lane. And however much we anthropomorphise our pets, a dog is not a person, and does not contribute to the required number of occupants. Only trucks 3.5 tonnes and over are permitted in truck lanes.
Is it legal for cyclists to ride on the footpath? If not, what action can pedestrians take if faced with a cyclist in such a situation?
Chris Dence, Auckland.
The NZTA website states that a cyclist may not ride on a footpath unless delivering newspapers, mail or leaflets, or there is a sign indicating it is a shared pedestrian and cycle path. The harder question is what to do when this occurs. Identification is a problem. My suggestion is to wave the rider down and tell him/her that this is not permitted. If anyone knows of a method that has worked, please let us know.