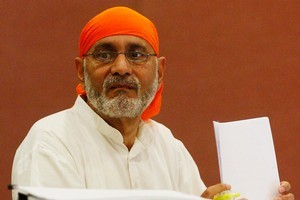 Hamilton's "free GP" will appeal against the latest decision from the Health Practitioners Disciplinary Tribunal where he was found guilty of professional misconduct.
Suresh Vatsyayann is awaiting the outcome of an earlier appeal against his being struck off the medical register and ordered to pay $256,000.
It will be heard in the High Court this month.
Dr Vatsyayann was called the "free GP" because he did not charge patients he treated at The Family Clinic in Vardon Rd.
He now plans to challenge the latest tribunal decision ordering him to pay a further $106,190 in costs.
Dr Vatsyayann will appeal to the Health and Disability director of proceedings, Aaron Martin, over three other parts of the six-part charge relating to diagnosing gastritis without proper checks and failing to adequately document care.
Dr Vatsyayann was last year found guilty on one part of a six-part charge which was for failing to follow up signs of pathology in a 66-year-old woman who died of bowel cancer.
Dr Vatsyayann did not want to comment to the Herald directly because the matter was before the court, but a supporter and friend of the controversial doctor who responded on his behalf said he would "obviously" appeal.
"It was a very weak case that is why five of the six particulars were thrown out because it didn't have that substance," she said.
The friend said Dr Vatsyayann had been unfairly targeted.
She said he was a solo father of a young baby son and was receiving a benefit because the proceedings against him had financially ruined him.
The 62-year old has appeared before the tribunal three times.
However, a witness to last year's case, who also refused to be named, said the hearing raised wider concerns about how doctors in New Zealand could continually put patients at risk.