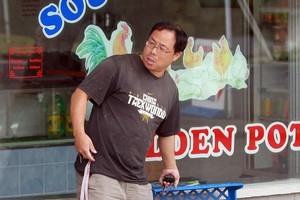 An owner of a fast food outlet has pleaded guilty to assaulting a health inspector who discovered a rodent infestation during a routine check.
Adriatic Food Bar's hygienic rating was downgraded from a 'B' to a 'D' in May last year after Auckland Council environmental health officer John Narayan found signs of rodents and unsafe food hygiene products.
Court documents stated Hua Zhao attacked Narayan by pushing and pulling him towards the back of the building while yelling abuse. He then blocked him from leaving the fish and chip shop.
Police attended the tussle but did not press charges, which were pursued instead by the Auckland Council.
He was charged with physical assault and intentionally preventing an officer from carrying out his duties.
Zhao told the Herald on Sunday he did not push Narayan but he pleaded guilty because he had "no choice".
"I did not push him, this is a small problem which turned into a big problem," Zhao said.
His wife, Merry Wan, said Narayan had been unreasonable and the incident was a misunderstanding because of her husband's lack of English.
"I'm not happy with the behaviour of the officer because he was too rough, so we complained," Wan said.
"He gave us a D and that is not correct, so a second man in charge came to check and said it was all good."
When the Herald on Sunday visited the premises this week, a B-rated certificate was displayed in the window and an A-rated pest control certificate was behind the front counter.
Auckland Council spokeswoman Sharne Parsons said the premises was reinspected after two months when the 'D' grade was reverted to its original 'B'.
Waitakere District Court judge Ema Aitken said: "Health inspectors do not have uniforms like police officers and they do not have the powers and protection that police officers have, but they do an important job when it comes to maintaining standards of food safety."
However, she said it was an assault on the "lower level" and convicted and fined Zhao $750 plus court costs of $132.89.