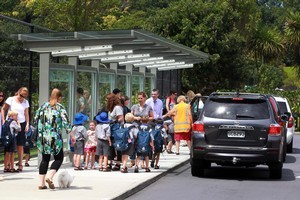 A drive-thru is normally a feature of fast food restaurants like McDonald's and Burger King but now schools are building them at their pick-up and drop-off zones.
Adding fries to your order is not an option in the drive-thru at St Kentigern School in the affluent Auckland suburb of Remuera - but that doesn't stop parents from asking.
Maryanne Looker, mother of senior student Josh Looker, says there is certainly a novelty factor with the school's elaborate system: "I often ask jokingly if I can upgrade my fries".
The block bordered by Shore Rd and Victoria Ave includes four schools and the roads are congested during peak times.
Deputy principal Grayson Aspinall calls the system an expressway which resembles a double-laned airport drop-off.
During peak morning traffic on Shore Rd, parents enter one gate and follow a road into the centre of the school where they queue to drop off their sons.
After school, the boys wait at another gate to be picked up.
"We've always had a drive-in system because of the nature and geography of the school, but the expressway system has been developed in the last three years," Aspinall says.
Motor Trade Association spokesperson Ana Zandi says school drop-offs and pick-ups are a peak time for pedestrian injuries; a quarter of such crashes occur between 3pm and 4pm.