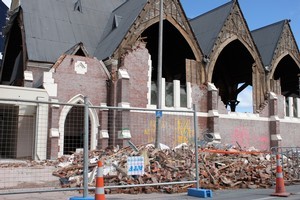 While building after building is torn down in Christchurch, plans are in place to ensure as much of a 131-year-old church is retained as possible.
Knox Church on Bealey Avenue suffered major damage in the February 22 earthquake, however the building's wooden structure remained intact.
Concept plans for the reconstruction of the heritage building have been released today.
Minister Geoff King said the building would be on the same site, with the same footprint, as the former church.
"The basic idea is retain as much as we can of the surviving wood work, which is the pillars, the timber framing - the heritage side of the building, and then encase the whole thing in a seismically-safe structural envelope.
"For obvious reasons both of cost and of safety, we can't rebuild with the bricks that we had.
Victorian red brick Gothic is a thing of the past for this city.
"But the external cladding we are looking at ... is a combination of acid-washed cement, which will be textured and will age to look a bit like granite, and then we are looking at a top cladding of copper, which will also age to a similar sort of colour to what the bricks had but will obviously be visually different.
"All the vertical lines, in terms of the gables, barring a couple of the minor ones, are going to be retained.
"So we are looking to preserve as much as we can, ending up with a building that will be modern, it will be safe, and will have an entrance on Victoria Street which will make it more accessible to the wider community."
Mr King said the rebuild is estimated to cost around $3.5 million, but he is hopeful the money can be found.
"The money's tight, in all honesty. Insurance wise we were insured for replacement of function, rather than full replacement.
"So that means we don't have limitless funds. We have access to a trust fund which we will be able to draw on to some extent and we will be looking to apply for assistance from the Christchurch City Council's heritage fund."
Mr King said the results of a geotechnical report is due in three to four weeks, and the consent process is ongoing.
"We are hopeful, we haven't seen any obvious signs that there are underground nasties here, but everything is contingent upon that stuff," he said.
"We are cautious optimistic and it would be fair to say we're quite excited about hopefully being able to do something constructive on this corner.
"It's not going to happen overnight, but we do hope to have something constructive underway by the end of this year."