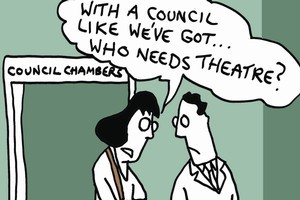 Maybe it's time for the old mayors of Auckland City and North Shore, Christine Fletcher and George Wood, to consider a career change. Their hand-wringing at yesterday's finance committee failed to persuade fellow Auckland councillors to abandon support for Auckland Theatre Company's new waterfront theatre.
But it did reveal a talent for pantomime which would surely draw crowds at ATC's next fundraising gala.
Mr Wood worried about his struggling local ratepayers while Mrs Fletcher, pledging undying love of the theatre, said that as a mother you have to be able to say no, however hard it is.
True, yesterday's report back to council was a worrying one on ATC's progress towards raising the $41 million needed to build the new theatre beside ASB Bank's head office development at Wynyard Quarter. The ASB Community Trust, which was to pledge $5 million, has deferred any decision until next month, not from any misgivings about the project, says ATC, but because the trust wanted time to assess its investment income.
And there are no funds available for theatre projects either through the Lottery Grants Board or other central government funds. Apart from the $4 million being spent by ASB Bank as its share of the overall project, private contributions are not exactly flowing.
ATC insists it's in promising discussions with naming rights sponsors and others. What's certain, though, is that without the $10 million pledged by Auckland Council in May last year, the project is effectively dead.
As with all such projects, the council is insisting all the other funding be nailed down before it hands over its contribution. Similarly, commercial and philanthropic donations will not be forthcoming without Auckland Council's contribution. That's why the "Jeremiahing" yesterday by the conservative old guard was so potentially damaging.
It's not as though any ratepayer money is at risk. As things stand, no money will change hands until ATC has all funding in place. All the old grey ex-mayors succeeded in doing was making it harder for ATC to persuade potential donors the project was a goer.
Instead of creating obstacles, councillors should be seeking to increase the city's contribution to this theatre project. Last year, an updated edition of the council-commissioned Professional Performing Arts Venue Study said the proposed 600-seat theatre was of "the highest and most urgent priority". With the university-owned Maidment Theatre's availability for outside users in a constant state of flux, and a question mark hanging over the future of SkyCity's theatre, this city of 1.5 million people doesn't have a drama theatre it can truly call its own.
This dire situation makes Mayor Len Brown's "world's most liveable city" dream something of a farce. Indeed, with the old St James Theatre decaying across Queen St from the Town Hall, it makes such claims both pretentious and embarrassing.
Sure times are tough, but that didn't stop councillors last November ticking through the mayor's desired $27.3 million Queens Wharf cruise ship terminal without demanding or seeing, a proper report on the project.
Why, you might ask, are ratepayers totally funding a strictly commercial building which is strictly for the profit of commercial ship owners, travel operators and the port company? Why isn't a city with a goal of turning Auckland into a South Pacific playground ensuring it has the venues to make this dream a reality.
If you've walked across the new paving outside the central library in Lorne St, you'll find another example of money being available when "needed". Those concrete slabs cost ratepayers a big chunk of the $10.9 million upgrade. That was well over a year ago and they're still tapping away, so I'm not sure of the grand total. If I'd had the choice of a new theatre, or restoring St James, or a sea of paving slabs, I know which way I'd have gone.
The council has a $3 billion budget and sets goals and priorities. Building a more liveable city will take more than new paving slabs.