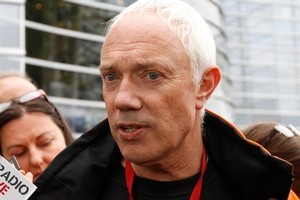 Christchurch Mayor Bob Parker is rejecting angry protesters' calls for him and his council chief executive to quit, saying he wants to see through his commitment to his earthquake-ravaged city.
About 2000 chanting ratepayers turned out in a heated public rally yesterday to vent their frustrations at what they saw as a dysfunctional Christchurch City Council and controversial decisions such as a $68,000 pay rise awarded to chief executive Tony Marryatt.
Mr Marryatt turned down the rise in the face of fierce public criticism, while the Government has introduced a Crown observer to try to get the divided council back on track.
The moves have done little to appease ratepayers, who took to the streets yesterday calling for Mr Marryatt to stand down, chanting "out, out, out" and demanding an early election to put together a new council.
Mr Marryatt declined to comment on the rally yesterday.
Organiser the Rev Mike Coleman told the crowd Mr Parker did a good job when the deadly February quake struck, but the city now needed "more than a PR person".
"We need a leader who can reunite the city, who can reunite the council, who can lead this city forward."
Mr Parker told the Herald he was not going anywhere, and Mr Marryatt had a contract.
"I'm intending to focus on the thing that I think we should all focus on, and that's the recovery. Until such time as the Government tells me that I don't have this job, or we arrive at the next election, that's what I'm going to be doing."
The protesters had had their say, and they represented "a very real view", he said.
"But my picking of it is the majority of people are now tired of all this. [The protesters] have made their point."
Protester Breiarn Blokker, 19, lost her job because of the February earthquake and was appalled that Mr Marryatt even contemplated accepting a $68,000 pay increase.
"It's a lot of money to people like me. Even if he turned that down, how much money is he making originally? How much is that compared to what other people make?"
Firefighter Kelvin Hampton found it obscene that such an increase could be offered when he and his colleagues had risked their lives to rescue people for salaries less than that. "This council has just treated the ratepayers with utter contempt."
City councillor Yani Johanson, who has been widely praised for his plans to fix the council's problems, said it was heartwarming to see people who had never protested before turn out to make their voices heard.
The Government has appointed observer Kerry Marshall to help get the council back on track, but Local Body Minister Nick Smith has warned that the council has weeks, not months, to sort out its problems before further action is contemplated.
Mr Parker is due to leave next week for a two-week tour to Asia to promote the city, prompting Mr Coleman to tell fellow protesters: "You do not leave a city in absolute turmoil... and head overseas for two weeks on a junket".
Mr Parker said he would not go unless he was sure it would not cause any setback to the council's rebuilding.