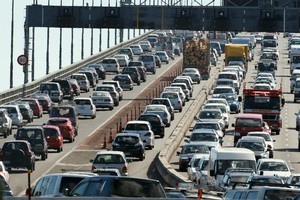 Heavy traffic is expected to slow things down in Auckland this week as thousands of youngsters return to school.
Many primary school-aged children started back yesterday, while more students - including high school pupils - will head back on various days this week and next.
Auckland Transport said yesterday did not bring too much congestion but motorists were being warned that would change in the coming days.
Spokeswoman Sharon Hunter said the School Travel Plan programme was one way Auckland Transport was working to reduce cars on the road.
Schools were encouraged to take on the programme, which has students participating in the Walking School Buses initiative or cycling to school rather than being dropped off in a car.
Auckland Transport figures show up to 6250 vehicles are taken off the road each morning as a result.
A total of 216 schools and 259,000 students are currently involved in the programme.
Roads were noticeably busier yesterday during the morning rush hour and after school, at 3.30pm, real-time webcams on the motorways showed.
Police will be cracking down on speed in the next two weeks and calling on motorists to be more alert on the roads - particularly around schools.
Auckland City road policing manager Inspector Gavin Macdonald said about 33 per cent more traffic on the roads was usual when school restarted.
"Everyone's coming back from holiday and so they're still going to be relaxed," he said. "But you have to make sure to think about the young ones crossing the road and be prepared to stop suddenly."
Mr Macdonald said people should also be careful passing schools during drop-off and pick-up times, as heavy congestion at those times meant there was always potential for an accident.
"A lot of parents are still going up to the school gates and dropping their kids off there - that causes congestion too and is not safe," he said.
"You have little kids having to weave through vehicles ... be patient. Park 100m up the road and walk your children down to school."