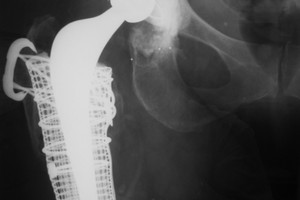 There are calls for a parliamentary investigation into the safety of metal hip replacements amid fears about 500 New Zealanders are being poisoned by the faulty implants.
The calls come after the Medicines and Healthcare products Regulatory Agency (MHRA) in Britain which said it had taken "prompt action" over the safety concerns, although added the majority of people with the devices are at "low risk of developing any serious problems".
The MHRA's response followed an investigation by the Sunday Telegraph which found more than 30,000 British patients have received the "metal-on-metal" (MoM) hip replacements which are feared to be more dangerous than previously thought.
Problems occur with such devices when friction between the metal ball and cup causes tiny metal filings to break off and potentially seep into the blood. These fragments can also cause a soft tissue reaction, destroying muscle and bone.
The newspaper said there are growing concerns that the implants could also cause "systemic toxicity" in the body, prompting the MHRA to start drawing up new advice for those fitted with them.
Around 500 New Zealanders are reported to have had the implants, however only 20 have had them replaced.
Auckland lawyer James Elliott had one of the implants at 43 and told 3News an "inquiry by Parliament, preferably the Health select committee" should be launched into how the implants came to be used in New Zealand.
He said there had been only two options when he had the procedure in 2008, either a ceramic working surface, or metal-on-metal.
"I was advised at the time due to my relative youthfulness for this operation that metal on metal would give me the longest lasting result," he said.
The Ministry of Health told 3News they are following the situation and advised anyone with concerns to consult their doctor.
Despite the concerns, a spokesman for the MHRA said that on the evidence available, "the majority of patients implanted with metal-on-metal hip replacements are at low risk of developing any serious problems".
"We are continuing to closely monitor all evidence. This needs more analysis before any conclusions can be drawn and further advice given. We have already taken prompt action to investigate safety concerns and have provided advice on patient management to relevant healthcare professionals."
In April 2010, the Government agency which is responsible for ensuring that medicines and medical devices work and are acceptably safe, issued an alert to healthcare professionals over the safety of metal implants.
It came after some patients began suffering soft tissue reactions "to the wear debris associated with MoM articulations".
The MHRA advised that people fitted with the devices should undergo annual check-ups for five years following surgery. It also said that those experiencing pain should be given tests to check the levels of cobalt and chromium in their blood, and an MRI or ultrasound scan to check for soft tissue reactions.
- AP, Herald Online