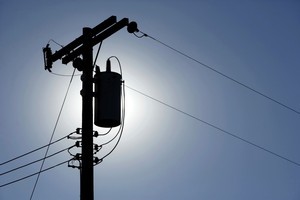 The company responsible for maintaining a power line that fell and electrocuted a man says it is saddened by his death, but it is too soon to say what brought the line down.
Brendon Walker, 39, died on Saturday morning when he rode his quad bike over a fallen power line carrying more than 11000 volts on the North Canterbury farm he worked on.
He was discovered dead by his wife Sarah and 7-year-old son Ethan when they went out to check the letterbox for mail, police said.
Mrs Walker suffered severe burns to her hands and feet while trying to help her husband, and is recovering in Christchurch Hospital.
The Department of Labour, the Energy Safety Service and police are investigating.
Police said a small fire at the top of the power pole had released a bracket holding the insulators attached to the wire. The bracket and insulators fell, dragging the power line close to the ground.
Lines company MainPower, which is responsible for maintaining the power line, is conducting its own investigation.
Managing director Allan Berge said staff were co-operating with the agencies involved but it was too soon to say what caused the incident.
"Until we know what has actually happened we can't speculate,'' he told APNZ.
"Various agencies are undertaking those investigations, we're doing our own, and at the appropriate time I will be making contact with the family to pass on my condolences and to do what is appropriate.''
Mr Berge said the company was very saddened by what happened.
"Electrocutions and electric shocks are never pleasant and the consequences can be fatal, and are often fatal. When it does happen it's extremely unfortunate and you've got to feel for the family involved.''
Mr Berge said he would get in touch with the family to offer his condolences.
"We appreciate that they'll be extremely upset ... and at the appropriate time we will make contact.''
Asked if he would offer an apology as well as condolences, Mr Berge said it was still unknown what had happened.
Mr Berge said power lines came down from time to time throughout the country, but there were extra stresses on lines in areas like North Canterbury, where they were subjected to high winds and snow.
``We just hope and pray that people don't go near power lines that have been damaged by inclement weather.''
Mr Berge said while power lines were "extremely dangerous'', electrocutions were very rare.
"People must be aware that electricity does bite and can kill, and unfortunately this has happened on this occasion, which is extremely sad for the family and everyone concerned,'' he said.
Police said Mr Walker had headed out on Saturday morning to check his cattle and when he saw three cows lying in the paddock, he drove his quad bike over for a closer look.
While nearing the dead cattle, he drove over the same power line that killed the cows and was electrocuted.
Mr Walker's wife and son Ethan came across the scene.
Mrs Walker was shocked by the power line while trying to help her dead husband, suffering burns to her hands and feet, but Ethan escaped injury.
He played a crucial role in his mother's rescue as he ran back to the house where he alerted his 9-year-old sister and they called their grandmother who alerted emergency services.
Mrs Walker was able to talk and was in a stable condition in Christchurch Hospital.
- APNZ