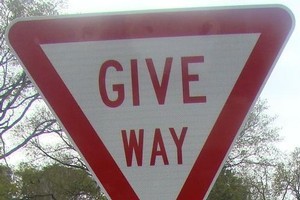 Changes will be made at a number of intersections around Wellington over the next few weeks in preparation for new give way road rules.
The right-hand law peculiar to this country will be brought into line with the rest of the world on March 25.
New Zealand adopted the current rule in 1977 from the Australian state of Victoria where it was introduced to assist trams on Melbourne streets. Victoria changed back in 1993, resulting in a drop in intersection crashes.
It has been estimated that a return here to alignment with other countries will reduce the cost of accidents by $17 million a year.
Pedestrian safety at New Zealand intersections is also expected to improve vastly when drivers turning left are able to go first, rather than giving way to traffic turning right.
The existing give way rules for turning vehicles have been criticised for being confusing and out of step with the rest of the world.
New changes will also require traffic from a terminating road to give way to traffic on a through road at uncontrolled T-intersections.
"All drivers and cyclists will need to be on the lookout for new signs and signal changes over the next few months, particularly on routes they are familiar with," said Wellington City Council's infrastructure director Stavros Michael.
"Pedestrians also need to take care when crossing the road."
The phasing of traffic lights at five major intersections in Wellington will be changed to make right turning easier under the latest rules.
New give way signs and road markings at 46 "uncontrolled" city intersections would be put in where there are no existing signs or signals to tell drivers what to do.
"The give way rule changes will affect all road users and we encourage everyone to make sure they know the new rules and what to do," said Mr Michael.
Once they come into force, the council would be monitoring intersections "to see if there are any issues," he said.
Some other traffic lights might be altered in the months to follow.
The NZ Transport Agency will be running a public education campaign leading up to the March 25 changeover.
- APNZ