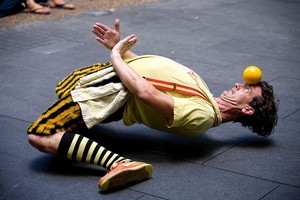 A homemade steamer had Aucklanders running for crayfish at yesterday's Seafood Festival at Wynyard Quarter.
It was among several events around the city, including a gathering of buskers and a sailing championship.
Anton Howell's day job is Oceanz Seafood's general manager, but yesterday he was tending a gas steamer with 30 crays, a couple of crabs and mussels.
The clouds of steam got plenty of attention from Anniversary Weekend festivalgoers who joked they wanted to take the cooker home.
Served up with lemon and aioli the line for the crays was chaotic.
"We probably would have done 500kg, we can't cook them fast enough," Mr Howell said.
There was hardly a fritter in sight as stallholders tempted fish lovers with fish tacos, pate, sea snails and other kaimoana.
Possibly the best spot to eat the fare was on board the Coromandel Harvester, where chowder and smoked greenlip mussels where being knocked back at a fair rate of knots.
Giovanni Vico serves the food up usually in the restaurant Mussel Kitchen but being out on the water was far better for work stories, he reckoned.
"It's beautiful. A wobbly, wobbly boat is the best barge I ever managed," he joked.
Also attracting crowds on the waterfront and in the CBD was the International Buskers Festival, with one busker telling people that all they had to do was enjoy the show and pay him enough for a beer and he'd be happy.
Mimes, a former Cirque du Soleil performer and an Argentine with various soccer-themed Guinness world records were proving popular, festival director Pam Glaser said.
"The Wally Show" had also arrived from Australia, juggling rubber chickens, balancing on a freestanding ladder and twisting into impossible contortions.
Wally talked non-stop through his performance and drew a large and enthusiastic crowd to a show just off Queen St.
Budding sailing champions from 13 countries were out on the harbour competing in the 470 world junior class out of the Takapuna Boating Club.
Secretary for the New Zealand 470 association Christine Hansen said with gusty 18 knot winds sailors couldn't have asked for better conditions yesterday - hopefully, the weather would hold up as competitors aimed for a strong final Friday finish.
Moving around Auckland during the long weekend didn't appear to be a problem despite engineering work on the motorway viaduct at New-market.
Before 3pm the Transport Agency was able to open the new section of the Southern Motorway 17 hours ahead of schedule. Northbound lanes from Market Rd to Gillies Ave closed on Saturday to allow the switching of lanes from the old motorway section to the new.
The section is usually one of the busiest on the Auckland network, carrying an average of 65,000 vehicles on a Sunday.
State Highways manager for Auckland and Northland Steve Mutton said drivers heeded NZTA advice and traffic was down by 75 to 80 per cent.
BE PREPARED FOR SUN AND RAIN
The MetService says Aucklanders should pack the umbrella and sunscreen if they're heading out to long weekend celebrations today.
Forecaster Melissa Roux said the weather overall wasn't bad for music lovers heading to the Laneway Festival at Silo Park. Temperatures could go as high as 25C in the city, but the summer heat would be tempered by the chance of showers and cloud lasting throughout the day.
Light easterly winds in the morning could increase but probably wouldn't be a strong feature for vessels taking part in the annual Auckland Anniversary Day Regatta, she said.
It's a weather pattern that would probably last until Friday, Ms Roux said.