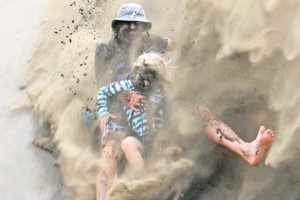 Dexter Murray has dreams of becoming a photographer and yesterday he got one step closer after winning the Herald's Holiday Picture Competition.
The 15-year-old, from Meadowbank, took the winning snap of his uncle and cousin, Mark and Jack Smith, surfing down a sand dune at Lake Wainamu during a summer holiday at Bethell's Beach.
"They were going down through this massive sand cloud - you couldn't see anything. So I tried to get that but it was a bit too late," Dexter said.
"Then it came out with just their faces and turned out to be quite a good photo."
Before he knew he'd won, Dexter said he'd been joking with his family about what he would do with the first-prize camera, a Canon EOS60D EFS-135IS Digital SLR.
"And Mum's been going, 'Don't get your hopes up, I don't think you'll win'."
But he did.
Dexter is about to enter Year 11 at Glendowie College and will take classes in photography after being inspired by his aunt and uncle who were both photographers.
"I've been practising a lot, so this is really good."
He said he was left "speechless" after being told of his win.
"That's awesome, just really, really awesome."
Dexter was given a camera for his birthday last month - but now he'll have two to practise his craft with.
Second place was awarded to Doug Crowther, from Tuakau, for his shot of two fledging starlings sorting out their differences beak to beak mid-flight. He won a Canon EOS600D EFS-55IS camera.
And third place went to Justine Brailey who won a Canon EOS1100D EFS18-55 camera for her shot of young Benjamin enjoying a sprinkling from the garden hose during a hot summer's day.
As well as their cameras, the first, second and third place winners took home a Pixma MG8250 printer, a Canon backpack and an SG201A4 paper pack.
During the six-week competition, the Herald received about 9000 photographs from 7000 readers who sent in their best summer shots.