The Herald on Sunday is campaigning to get all of New Zealand out on the beaches this summer, keeping them clean for our kids and our grandkids. We'll be out with our rubbish bags - and we want you and your family to join us.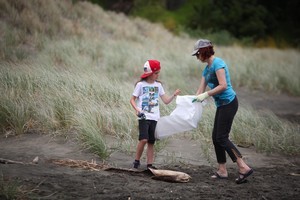 Volunteers, businesses and celebrities are pitching in to help our Beach Busters campaign.
Sustainable Coastlines has recorded an unprecedented increase in support since the Herald on Sunday launched the clean-up initiative last week.
Hundreds of people have signed up for the cause online.
Kiwi boardsailing queen and Olympic gold medallist Barbara Kendall, who lives in Orewa - which, with Matakana, is the site of today's clean-up campaign - also welcomed the initiative.
"It's great that people are getting out there and taking care of the beaches," she said.
Today's clean-up has tied in with the Tuborg Summer Sunday music festival at Matakana.
Before taking the stage hit Kiwi acts gave Beach Busters the thumbs-up.
Black Seeds singer Barnaby Weir is performing at the event with Fly My Pretties. "I'm stoked about the clean-up of the Matakana coast," Weir said.
"It's so inspiring that these clean-ups are having a real impact." Tim Gemmell, drummer from top festival act Tahuna Breaks, added: "The clean-up nicely brings together the concept of 'work hard' and 'play hard'."
The volunteer-based Coastguard Hibiscus has also offered its rescue craft Sealegs to help today at Orewa.
As you work along the beach, you may notice dead seabirds that have washed ashore. Please do not clear these away, as the Ornithological Society of New Zealand has a programme of regular beach patrols to record and remove the birds.
You can register your support or participation through nzherald.co.nz or at facebook.com/sustainablecoastlines. The next clean-up is over Waitangi Weekend around Sandy Bay, Tutukaka.
* * *
YOUR CHANCE TO WIN BIG
Take a photo of your friends or family cleaning up your favourite beach and go in the draw to win a Sony Cyber-shot TX10, valued at $649.95. With an Underwater Sweep Panorama function and 16.2 Mega Pixels you'll be able to take stunning underwater photos, as well as crystal clear shots on land. We have one camera to give away every week for the next 10 weeks to the person who takes the best photo, as judged by Herald on Sunday illustrations editor Chris Marriner. Five runners-up will each receive a copy of the book Beached As - New Zealand Beaches Then and Now by Craig Levers.
GRAND PRIZE
At the end of our Beach Busters campaign, the overall winner will receive a grand prize package comprising:
* a Sony Tablet S valued at $749.95
* a dive, snorkel or sightseeing trip for two to the Poor Knights Marine Reserve courtesy of Dive! Tutukaka
* $400 worth of clothing from surf label Sitka.
Entries close each week at Friday noon, and the winning photo will be printed each Sunday. So get snapping, and email your best shot as a JPEG to pictures@hos.co.nz with 'Beach Busters' in the subject line. Make sure you include your name, address and daytime phone number. Include a caption giving the place and full names of the people in the photo.
Please see terms and conditions at www.nzherald.co.nz/HOScompetitions. APN New Zealand reserves the right to store electronically any pictures entered in the competition and to use the images in any of its publications.