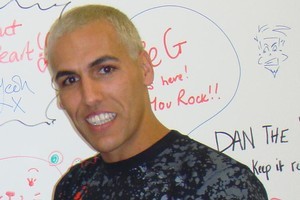 Two motorcyclists died just hours after kicking off a day-long club ride with a sausage sizzle at a country hotel.
The riders - believed to be husband and wife - were travelling in a 77-strong convoy when they skidded off the road and crashed into an SUV and trailer about 12.40pm yesterday, 32km north of Dargaville.
One of the riders was dead when emergency crews arrived. The other died on the way to hospital. Dargaville deputy chief fire officer Jeffrey Palmer described the accident as "really unlucky".
"They had come around the corner and laid the bike over. All their mates were there, they were just all shaken up."
Resident Don Harrison said he heard the motorcyclists roar past his house followed by police sirens and a rescue helicopter. "Some were being a bit erratic, passing on blind corners."
The riders, believed to be from the Ruawai Motorcycle Club and Hikurangi Riders Club, had stopped at the Tangiteroria Tavern, halfway between Dargaville and Whangarei, earlier in the day.
The pub manager, who did not want to be named, said the riders had been on a pub-hopping day trip where they played cards at each stop.
"It was a poker run which a lot of biker clubs do. They stay at each pub for an hour or so and we were the first ones, so we put a sausage sizzle on for them and then off they went and this terrible thing happened," she said.
"They are a bunch of nice guys who go out on Sunday rides. They only ever have one or two drinks because their bikes are worth too much for them. A lot were just drinking water, lemonade and Coke."
* * *
Meanwhile, the fitness world is mourning the death of one of New Zealand's best-known personal trainers, Hernan Lopez.
Argentina-born Lopez, 33, moved to Auckland to work for Les Mills International in 2008. He starred in numerous fitness DVDs made for the leisure group giant and distributed to its 90,000 instructors around the globe.
It is believed that Lopez died after being hit by a truck in central Auckland early on Friday morning.
Jake Shand, brand manager for Les Mills, said staff and customers were devastated.
"Hernan had incredible energy and was loved by almost everyone he met," Shand said.
"He was one of the most respected and liked fitness instructors we knew. Everyone is shattered that this has happened.
"Hernan's partner Briar also lived in Auckland and our thoughts are very much with her at this sad time."
Tributes to Lopez - who also held a black belt in tae kwan do - last night poured in from across the world on his Facebook page.
It is believed his brother Leo is en route from Argentina. A funeral is expected to be held in Auckland on Wednesday.