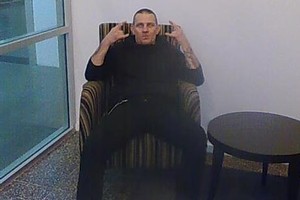 A man who tied up a 19-year-old woman in a home invasion while her parents slept upstairs told her his trademark was kissing his victims on the lips.
Shane Victor Hughes, 35, was sentenced to five years and nine months' imprisonment for indecent assault, possession of a weapon and unlawful detention at the Auckland District Court this week.
Hughes, a Glen Innes beneficiary, got into the family's Remuera home on September 22 last year, entered the room of the sleeping 19-year-old before binding her, taping her mouth and robbing her.
Police and the young woman's mother say that before he left, Hughes ripped the tape from the teen's lips, repeatedly kissed her on the mouth and told her "that's my trademark". It was one of the pieces of evidence that helped track him down.
Her mother told the family's cleaner what happened the next morning and the cleaner was able to identify the intruder - her former partner.
The girl's mother, Niamh McMahon, said she rang her cleaner, Veronica Page, after the police had been through the house with fingerprint dust. "I rang her because of what had happened. I told her what had occurred and she rang back after about half an hour and said 'I know who has done this. He's done it before'," she said.
Page made a statement to police that her ex-partner had the family's gate security code. She lost her job because of the security breach.
Hughes would likely have been caught anyway - DNA from saliva left on the victim's mouth was matched to him on the police's DNA database.
"He had slobbered all over her. The police had the results from the DNA testing back really quickly. My cleaner had told the police his name. They had been in a relationship for six years but had broken up a couple of weeks prior," McMahon said.
McMahon said her daughter had been unable to return to her bedroom since the incident. It was the only one downstairs and Hughes had got in through an open back door.
"It will be good for her when she moves into a flat this year. She has had difficulty establishing good sleeping patterns at night. In spite of all of this she passed her university exams with flying colours six weeks after. We are made of tough stuff."
Hughes' lawyer, John Gerard, told the court Hughes had planned to rob the premises to feed his drug addiction.