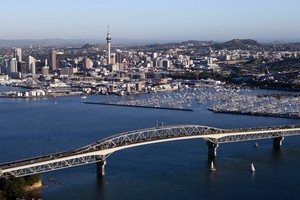 I'm not an Aucklander by birth and it wasn't until I went out on the harbour on a friend's boat that I understood our largest city's charm.
The harbour is sensational and the view of the city from the water is spectacular. Any city that has been set around a harbour has a natural advantage - unless it turns it into a carpark for container ships.
A new group, Your Port, Your Call, has revealed the Ports of Auckland wants to grow its wharf space by the equivalent of 16 Eden Parks, allowing a 400 per cent increase in container traffic. It also means that bigger ships will come to the harbour - so big that dredging will be required for the ships to be berthed at low tide.
The cranes to service these behemoths will be 25 storeys high. There'll also be a five-storey car park built to accommodate imported vehicles.
While I understand the need to have a thriving and efficient port, does the port have to be in the heart of the CBD? Is there nowhere else, either in Auckland or the North Island, where the port could be sited?
The development of the Wynyard Quarter was a wonderful initiative opening up the waterfront to all Aucklanders. It would be a shame to see the jewel in Auckland's crown swallowed up by commerce.