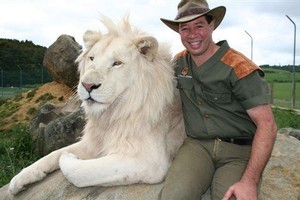 The fight for ownership of the Zion Wildlife Gardens' big cats is down to mother and son, after the park's receivers withdrew claims to the animals in the High Court in Auckland today.
The Northland wildlife park was placed into liquidation in August last year when it was unable to pay debts said to be over $100,000.
Whether or not the park's 36 animals could be owned or sold by receivers PricewaterhouseCoopers (PWC) has been disputed since.
Lion Man Craig Busch and his mother Patricia both claim that the cats belong to them. The High Court has allowed Patricia to care for the animals since the park went into receivership.
Ms Busch claimed that PWC could not sell the animals under the Wildlife Convention, and there were fears the cats would be euthanised.
But PWC lawyer Justin Toebes told the court today his clients do not claim to own the cats.
Outside court, Ms Busch's lawyer, Evgeny Orlov, said the decision saves the cats from euthanisation "at least in the short-term''.
PWC said last week they had received an offer to buy the park as a going concern, and that the would-be buyers intended to keep the animals in the park.
Mr Orlov said anyone that claimed to want to buy and run the park was lying.
"Anyone with any understanding of business can see that it's not the right place for a park. It's in the middle of nowhere.''
He said he was in touch with "a number of parties'' interested in buying the cats and finding an appropriate home for them, but no action could take place until the ownership dispute was resolved.
A hearing to decide the ownership of the cats is set for February 14.
The park was opened by Mr Busch in 2002, but his mother took over directorship in 2006 as the attraction faced crippling debt.
An ongoing feud between the pair began when Mr Busch was dismissed from the park in 2008.

- APNZ