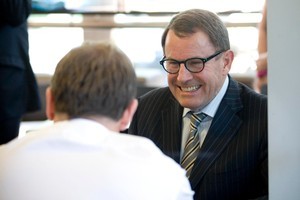 Prime Minister John Key's decision to lay a complaint with police over the teapot tape has came under renewed fire, after the tape was published anonymously online yesterday.
And for the first time, Mr Key apologised to older New Zealanders if they were offended by his comments.
Politicians and media were alerted to the anonymous posting of the tape to a file-sharing site. Visitors were invited to download the file and share it so it "can't be taken back!"
This prompted police to remind media outlets that it is illegal to disclose the contents of a private conversation that has been unlawfully recorded.
The tape is the recording of a conversation between Mr Key and Act's Epsom candidate, John Banks (now the seat's MP), at Urban Cafe in Newmarket on November 11.
A freelance cameraman, Bradley Ambrose, recorded the conversation - accidentally, he claimed - but Mr Key said it was a private conversation and laid a complaint with the police.
The tape dominated coverage in the final weeks of the election campaign and helped New Zealand First leader Winston Peters, who leaked what he alleged were the contents of the conversation, to gain traction in the media.
Mr Peters claimed Mr Key and Mr Banks had undermined then-Act leader Don Brash, and that the PM had made derogatory comments about the pensioners who usually support New Zealand First.
Mr Key said he had not listened to the tape, but offered an apology.
"Older New Zealanders at some point pass away, and it's a statement of fact that Winston Peters' base has typically been represented by older New Zealanders," he said.
"But that was a private conversation. I would always phrase things in a better way if it was a public conversation. So if there was offence, yes, I would apologise for that."
Labour leader David Shearer said there was "nothing surprising" in the tape, but he criticised Mr Key for laying a complaint with the police.
"Why do we have to pull the police in to stifle comment coming out of our four largest media organisations? I think that's nonsense. His bringing in the police was completely heavy-handed, completely unnecessary given the content of the tapes."
Mr Peters called on Mr Key to withdraw the complaint. "Going to the police about this tape was a pathetic political stunt aimed at shutting down discussion of an election blooper and Mr Key should be ashamed of himself."
The teapot tape is likely to become a focus when Parliament resumes on February 7.