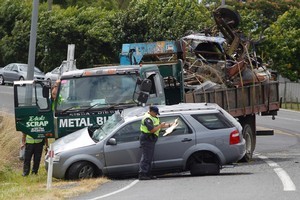 A woman was killed yesterday when the car she was driving was hit by a truck at Eureka, near Hamilton.
It is the third crash involving a car and truck in the Waikato in four days and the second fatal accident after 45-year-old Anna Pidduck was killed on Tuesday.
Ms Pidduck's 9-year-old son Jacob Henderson is still fighting for his life in Starship Hospital while a 33-year-old woman remains in critical condition after a similar crash near Kopu on Monday.
Police said it was too early to say what caused yesterday's crash but it appeared the 68-year-old Eureka woman driving a Ford Territory pulled out into the path of the eastbound truck at the intersection of State Highway 26 and Tauwhare Rd.
The woman was turning right towards Morrinsville from a give way when the accident happened at 12.43pm. She died at the scene.
Police would not release her name until next of kin had been notified.
The Te Aroha Scrap metal truck driver was uninjured but shaken.
The road was closed for several hours as emergency services worked to recover the woman's body and a scene examination was made.
Waikato District Road Policing Manager Inspector Leo Tooman said it was particularly concerning that the latest crash was the third involving cars and trucks in the Waikato this week.
"It now appears we have two women who have lost their lives and another fighting for her life in an Auckland hospital as well as a seriously ill child injured in Tuesday's crash," Mr Tooman said.
"It's too early to speculate on the cause of this latest tragedy.
"But what we do know is heavy transport vehicles are very large and quite difficult to stop in an emergency and as such should be afforded a good deal of respect and caution when encountered. We need to do all we can to prevent such tragedies for all our sakes."
Ms Pidduck died on Tuesday in a collision at the intersection of Kaipaki and Cambridge Rds about 8.20am.
Her brother Michael Pidduck said she had stopped at a stop sign to let a truck and trailer past and pulled out without seeing another truck following.
Jacob suffered serious head injuries and was still in a critical condition last night.
On Monday a woman suffered life threatening injuries when the Ford Laser she was driving collided with a truck at 5pm on State Highway 25 at Orongo, near the Kopurahi Community Hall west of the Kopu Bridge.
It appeared the woman came out of a driveway and made a U-turn in front of the oncoming truck. Its two occupants were shaken but uninjured.
Mr Tooman said "It's pretty frustrating because when you look at it of course there's no need for these people to die."