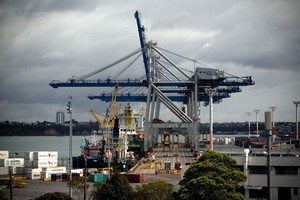 The growth in freight and the critical role of the ports in the regional and national economy are the key reasons given by Ports of Auckland for expanding its operations into the Waitemata Harbour.
The port company has strongly lobbied its case and last December urged Auckland councillors to "lock in place" a coastal zone allowing it to expand its waterfront operations from 77ha to 95ha by 2055.
In a submission on the draft Auckland Plan on December 19, infrastructure general manager Ben Chrystall said the ports handled $26.5 billion of trade annually, 36 per cent of New Zealand's container trade by volume and 31 per cent of New Zealand trade by value.
The port company, he said, facilitated 22 per cent of the Auckland economy and sustained 187,000 jobs. This was expected to grow to 628,000 jobs by 2031.
Over the past 20 years, container volume growth has averaged 6.74 per cent.
At a conservative growth of 5 per cent, a 2009 study found that in 20 years there would be insufficient capacity at Auckland and Ports of Tauranga to meet the upper North Island's freight needs. At this point, or sooner, further development would be needed in Northport at Whangarei.
"Under the economic growth targets in the Auckland Plan, the role and capacity of the port will need to expand even more than under standard economic growth patterns," Mr Chrystall told councillors.
However, the company in its 2008 development plan cautioned against the "inherent uncertainty" of long-term planning, citing its 1989 port plan.
In 1989, the company planned reclamation of the eastern port by 1994 and a new port by 2010. But because of improvements in productivity and capacity within the existing footprint, reclamation was delayed until 2009 and a new port has been abandoned.
The 2008 plan said that over the long-term there was likely to be one major hub port in the North Island and one in the South Island, with Auckland being the most viable and logical North Island option.
Then last month, the port took a different tack in its submission on the draft Auckland Plan, saying it was important to retain ports in Auckland, Tauranga and Northland because dependence on one port would "remove resilience and significantly increase supply chain risk".
Heart of the City chief executive Alex Swney, whose business group is campaigning against the company's expansion plans, said there were other economies to consider.
"Before we consent away our waterfront we should consider the wider implications, economic and environmental, and demand a review of the port's plan and seek a range of alternatives for Aucklanders to consider," Mr Swney said.