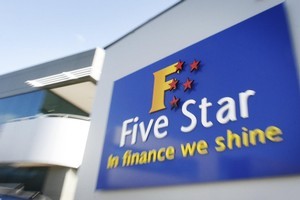 The liquidator for failed lender Five Star Finance has lost its bid to void a series of transactions worth some $929,000.
In the High Court in Auckland, Associate Judge Roger Bell turned down an application by liquidators Gerald Rea and Paul Sargison of Gerry Rea Partners to void payments by Five Star Finance to Bowden No 14 Trust between September 2006 and August 2007, according to a judgement made earlier this week.
The trust borrowed funds from Westpac Bank and Five Star Consumer Finance and was involved in Auckland property projects, which were properly documented, but other transactions between Five Star Finance had "no basis in reality." Though the records showed advances to the trust peaked at $10 million in 2006, actual cash flows only amounted to $929,000 for the period in question.
The judge said the payments were in "restoration of property unlawfully misappropriated from the trust" and that the liquidators weren't entitled to an order to set them aside.
The liquidators were seeking to enforce personal liability for a voidable transaction against the trust's then-trustee, Ronald Russell. The final beneficiaries of the trust were grandchildren of Neil Williams, a related party to the Five Star group of companies, and Russell's brother-in-law.
Russell's role was to oversee the trust's asset position, and make decisions, based on advice from Five Star managing director Nicholas Kirk, to make investment decisions. Kirk was left to deal with administrative matters, but wasn't granted the right to make trust decisions.
The Five Star group of companies called in receivers in 2007. The Five Star Finance entity owes creditors some $43.8 million, of which only $551,000 has been recovered.
"It is common ground that the person responsible for moving funds between the company and the trust was Mr Kirk," the judgement said. "At all times he was both managing director of the company and the agent responsible for administration of the trust."
Because the decisions made by Kirk weren't within the mandate granted by Russell, the judge accepted the submission that Kirk had not authority to transfer trust funds into Five Star Finance, and that his actions couldn't be attributable to Russell.
"Mr Russell might owe a duty of care to the beneficiaries to ensure that trust assets are not dissipated by trust agents, but that is a different question from the scope of authority given to Mr Kirk and the extent to which Mr Kirk's conduct can be attributed to Mr Russell," Bell said.
The collapse of the Five Star group attracted a Serious Fraud Office investigation, and the white-collar crime unit subsequently laid charges against four former and a so-called 'de facto' director in 2010. Three of them pleaded guilty, while the final two are expected to defend the charges in June this year.