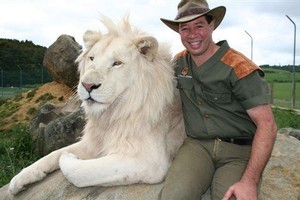 A hearing into who owns the big cats at Whangarei's Zion Wildlife Gardens cannot proceed until Lion Man Craig Busch pays $16,000 in court as security for costs.
The order was made by Associate Judge Roger Bell in the High Court at Whangarei on Monday after an application by Evgeny Orlov, lawyer for park operator Patricia Busch. The media was barred from the hearing.
Mr Busch, who has an injunction that prevents the sale or euthanising of the 36 big cats, has until next week to pay the bond.
The High Court at Whangarei will next month hear arguments on the ownership of the animals, if Mr Busch fronts up with the bond.
Mr Orlov said the application was necessary because the Lion Man had lost a few cases previously, including one in which he sued his mother, but had not paid costs for those cases. He said another reason for seeking security for costs was that Mr Busch was in South Africa.
"We are telling the court enough is enough. He can't be harassing her [Mrs Busch] without paying security for costs. If he loses [next month] ...
she won't have any security over costs without this application succeeding,'' he said. Mr Orlov claimed if the security wasn't paid and the hearing failed to materialise, the ownership of the animals would fall on his client.
Mr Busch's lawyer Noel King said his client was asked to pay $30,000, but the court ruled it was not the right amount. "Because he is resident overseas, part of the law says he has to provide security and that's what the court has ruled on,'' he said.
Mrs Busch has been the park operator for two years and only the Ministry of Forestry has powers to revoke her licence.
Another hearing is scheduled in the High Court at Auckland tomorrow over matters pertaining to the control of the animals to enable the sale of the park and its assets to go ahead.
For more articles from this region, go to Northern Advocate