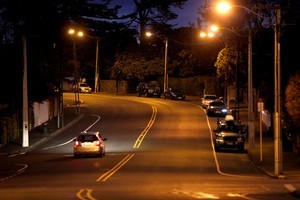 The mother of a 19-year-old bound, assaulted and robbed by a "drug addled" intruder says his jail sentence is not the end.
Shane Victor Hughes, 35, was sentenced to five years and nine months imprisonment at the Auckland District Court today.
He previously pleaded guilty to charges of indecent assault, possession of a weapon and unlawful detention, after entering the family's Remuera home on September 22 last year. The sentence also covers a second incident where he stole two televisions when checking out of a motel.
Further charges of possession of two bongs for smoking cannabis, possession of methamphetamine and pipes for smoking methamphetamine were withdrawn.
The night of the robbery, Mr Hughes had not slept for eight nights and entered the property in a "befuddled and drug-addled state" in the early hours of the morning, said his lawyer John Gerard.
Hughes' ex-girlfriend used to be the family's cleaner and told him the security code to the house. He planned to rob the premises to feed his drug addiction, said Mr Gerard.
Armed with a hammer, pocket knife and tape, Hughes entered the room of the sleeping 19-year-old before binding her, taping her hands, and indecently assaulting her as her family slept in the house.
He took several items and shortly before he left the property, Hughes repeatedly kissed the victim on the mouth, said Judge Phil Gittos.
Outside the courtroom, the teenager's mother said although the attack had thrown a "grenade into her family", the five were looking to move on with their life.
"I'm delighted with the outcome, it was what we had hoped for."
"I wouldn't say it's the end, it's just moving on time. It doesn't change what's happened..but it's a milestone that we've reached and that's good for us."
The mother said the family was headed home for a quiet night, and would not celebrate the misfortune of someone else.
She said she was confident both her daughter and the family would move past last year's intrusion, but did not give much merit to Hughes' two hand-written apologies handed out in court.
Her daughter was making progress through counselling on a number of phobias she had developed since the attack, such as being anxious when being left alone or trying to sleep.
The teenager passed her university exams after the incident last year and planned on moving out into a flat this year, the mother said.
"She's quite philosophical. I think that the emotional scars that she has will simply be reminders of where she's been, but they will not dictate her journey in life."

- APNZ