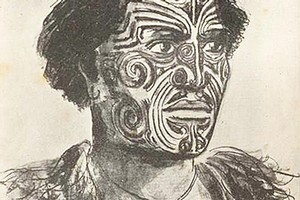 The art of Hongi Hika - a warrior chief remembered for his devastating use of musket warfare - is on show at Toi Ngapuhi, an exhibition which opened last night in Kaikohe.
A self-carved wooden bust completed on Hongi's first trip to Sydney in 1814 is part of a number of taonga on loan from the Auckland Museum to Te Runanga a Iwi o Ngapuhi for its biennial festival.
Measuring 36cm, the bust features the rangatira's facial moko, and was completed when the keen agriculturalist and trader met missionary Samuel Marsden.
Hongi's military incursions through the North Island in the 1820s are remembered by other iwi as calamitous, ugly events.
But the piece shows Hongi was more than a man of war, museum curator Chanel Clarke, also from Ngapuhi, said.
"The warrior description is always prevalent. He has a bad rap around the country and so you're not allowed to talk about him.
We're never allowed to celebrate him as a man. We see more of him here.
"He carved his face and then carved his moko, so it's really naturalistic. It's not abstract, it's not like what we're used to seeing when we look at Maori carving."
Runanga iwi development manager Allen Wihongi said there were also puzzles. Paintings from the same era reveal parts of his moko from his chin were not quite complete on the bust.
"He was a visionary, a warrior and a strategist but he was also an artist."
Other taonga include a greenstone mere reputed to have belonged to Hongi, a papahou or treasure box and a silver cup from Queen Victoria gifted to Tamati Waka Nene, the chief that fought on the side of the British during the Northern Wars.
An inscription on the cup reads: "The Queen of England, To Her Loyal Subject and Friend, Na Tamati Waka Nene, June 1861.
Mr Wihongi said iwi had been demanding more access to tribal matauranga, knowledge.
"They want our stories told. It's important that taonga are recognised for what they are, what they represent, who owned them and who belonged to them. These are Ngapuhi stories."
The exhibition precedes the main festival on this weekend where 40,000 iwi are expected to attend seminars and entertainment.