Do you have pictures of the stranding to share?
Email us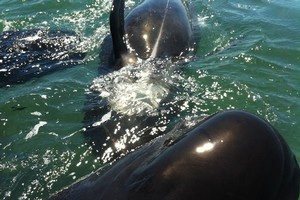 Pilot whales that beached a second time at Farewell Spit have refloated and finally appear to be heading to deeper water.
The whales were part of a pod of 99 that beached in the Farewell Spit area in Golden Bay around midday on Monday.
A group of whales refloated yesterday but, after about three hours of "milling'' about in shallow water, 40 restranded yesterday afternoon. Five died and another two had to be euthanised this morning, Department of Conservation (DoC) area manager John Mason said.
At high tide today, at about 11.40am, the remaining 33 stranded whales successfully refloated, but they appeared happy to stay in the general area.
At about 1.30pm, the pod appeared to change tack and slowly started heading offshore in a south-easterly direction towards the deeper sea, said Mr Mason.
"They aren't moving quickly, but they do seem to be reasonably consistent in the way they're heading. We've got a boat shadowing them, and we'll have a boat shadowing them for the rest of the night for as long as we can.
"They're obviously not in perfect condition, they've been on the beach for the last 48 hours, but I guess they've got enough energy to swim and they seem to have a bit of motivation today too, which they didn't seem to have yesterday.''
The carcasses of the dead whales have been moved to behind a sand dune where they would decompose out of the public's way, Mr Mason said.
A smaller group of 17 whales which refloated themselves on Monday night appeared to be safely back at sea.
Another 36 whales have died since the original stranding, while six remain unaccounted for.
Mr Mason said today's successful refloating was a reward for up to 200 DoC and Project Jonah workers and volunteers who have worked to keep the whales comfortable, wet and shaded over the last two days.
"I hope [this is the last we'll see of them], but we can't be sure. We'll check the beaches in the morning and see what we find.''
- APNZ