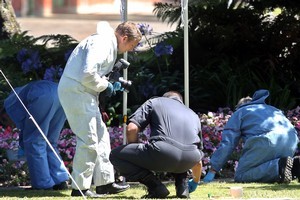 Police have launched a murder investigation after a local man was found dead in the same Rotorua park where a teenage girl was attacked this month.
The man was discovered by local residents with serious injuries to his head and body about 1.30am. His body has been transported to Auckland for a post-mortem examination.
It is understood the victim was a builder who recently lived in the Pacific Islands.
Bay of Plenty police district field crime manager Detective Inspector Mark Loper said the man would not be publicly named until his identity was confirmed and his next of kin had been informed.
"We can say that the man is Caucasian and aged in his 60s.
"We believe that he had temporarily moved to Rotorua and that he was not a tourist.
"We are confident that the incident is not gang-related, but we are exploring all possibilities, including whether the incident is related to family violence, robbery or drugs."
Mr Loper said it was too early to detail the potential cause of death and he would not comment on the specific injuries or what was likely to have caused them.
A cordon was set up around most of the park, where an Environmental Science and Research forensic team was investigating and Search and Rescue volunteers were scouring the ground. Two blue tents were set up to the side of one the park's large hot-water pools, while a green hatchback also remained within the cordon on the other side of the park.
People were being asked to stay away from the area for the time being.
The incident comes after a 15-year-old girl was attacked on January 8.
And last year a Rotorua grandfather told the city's Daily Post newspaper he was disgusted when he and his two grandchildren spotted men engaged in sex acts in broad daylight in the park.
Deputy mayor Trevor Maxwell said there had been concerns in the past over homeless people staying in the park, but over the years council staff had cleared undergrowth to make it more open. He said the council planned to install better lighting around the park, which was not somewhere people were recommended to walk at night.
People with information are asked to phone Rotorua police on (07) 348-0099 or the anonymous Crimestoppers line on 0800-555-111.