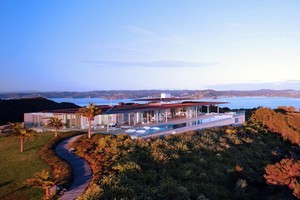 A multimillion-dollar luxury property on the Bay of Islands that has featured on television shows and hosted world leaders, royalty and celebrities is for sale.
Eagles Nest is an exclusive accommodation property where dozens of international high-profile guests have stayed over the years.
The 28ha estate has four private villas each with its own amenities, including a private heated infinity-edge lap pool, spa, jacuzzi, home theatre system and a gourmet chef.
A fifth property, which is dubbed Rahimoana, has 300-degree views of the ocean and is described as the estate's "crown jewel".
The estate has won dozens of World Luxury Hotel and World Travel awards as well as recognition for its architectural design.
It has featured on New Zealand's Next Top Model, twice on Australian travel programme Getaway and provided a romantic backdrop for American reality television programme The Bachelor.
American owner Daniel Biskind said he and wife Sandra were looking to focus their efforts on a new project and had decided to sell.
The couple, who had no previous experience in hospitality, began building the estate in order to share the area's beauty with others, Mr Biskind said.
"We were led to the Bay of Islands and led to Russell and led to this land. It all happened very spontaneously ... and we fell in love with it.
"We've had lots and lots of billionaires and Hollywood A-listers and we've had very high-profile people," Mr Biskind said.
"We have had world leaders - [but] we would never mention names ... because that's our policy."
The sale is being handled by Sotheby's International Realty.
Realty adviser John Greenwood was expecting tenders to be in the mid to high $20 million-plus range but said that evaluations were "in excess of $50 million".
The international tender for Eagles Nest closes on February 29.