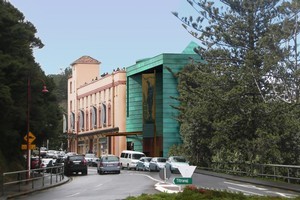 A $19 million project to revamp Titirangi's Lopdell House, strengthen its frame and build a carpark and art gallery next door, has won Auckland Council backing.
Bold plans for the heritage arts centre emerged eight years ago after new earthquake resistance standards came in and its 1930 masonry structure was found lacking.
The council will put in $12.3 million for strengthening and restoration of the hilltop building under an agreement between the council's strategy and finance committee and the Waitakere Ranges Local Board.
Lopdell House Development Trust chairman Terry Bates said work on the first stage - the carpark - may begin next week.
In the meantime, the detailed design for the heritage works would be finalised in order to give a better idea of costs.
"It's hard to pin down the cost of the seismic strengthening and restoration.
"We have always taken the view that the old girl has probably got a few surprises for us."
"But the driver for all of this is that people love the building."
Mr Bates said the trust was grateful to the former Waitakere City Council, which owned the building from 1983, for recommending the project to its successor for priority in the funding queue.
"We are hopeful of getting $5 million to $6 million from the Portage Licensing Trust, which has expressed strong support and we have a firm commitment from the ASB Trust for $750,000."
A feature of the design by Mitchell and Stout Architects is to remove old top floor additions for a rooftop terrace.
This viewing area was a popular feature when the Mediterranean-style building was a luxury hotel. It has also been a nightclub, a school for the deaf and an Education Department training centre.
The present gallery is in the old hotel dining room and cannot offer the controlled environment that major galleries expect when lending their works.